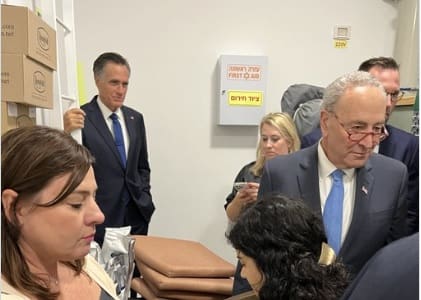 Senate Majority Leader Chuck Schumer's delegation in Tel Aviv was rushed to a bomb shelter to wait out rockets shot off by Hamas.
"While in Tel Aviv today, our delegation was rushed to a shelter to wait out rockets sent by Hamas," the New York Democrat announced on X Sunday morning.
Schumer posted a photo of himself alongside Republican Sen. Mitt Romney of Utah in the shelter.
"It shows you what Israelis have to go through," he continued. "We must provide Israel with the support required to defend itself."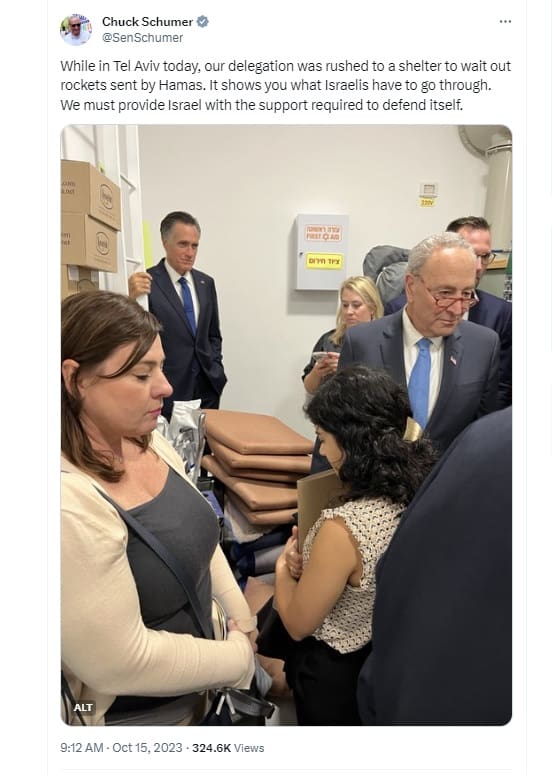 Schumer, the highest-ranking Jewish elected official in the United States, and a bipartisan group of senators took the trip to Tel Aviv to show support for Israel ahead of Joe Biden's expected request for Congress to approve supplemental wartime funding for Israel and Ukraine.
GOP Sen. Bill Cassidy of Louisiana and Democrat Sens. Jacky Rosen of Nevada and Mark Kelly of Arizona are also on the trip with Schumer.
The senators met with Israeli President Isaac Herzog in Tel Aviv early Sunday prior to being rushed to the shelter.
The group of senators is also slated to meet with Israel Prime Minister Benjamin Netanyahu and Benny Gants, a chief political rival and centrist opposition leader.
The two Israeli politicians "have formed a unity wartime government" since Hamas terrorists murdered more than 1,300 civilians in Israel last Saturday, NBC News reports.
At least 29 Americans were among those killed in the blitz the US State Department deems the worst attack on Jews since the Holocaust.
At a press conference in New York City on Friday, Schumer noted the purpose of the trip to the Middle East is threefold: To show the world the US stands with Israel, to and discuss the resources and support the nation's needs with Israeli leaders, and show support for Israel is bipartisan.
"We're gonna get Israel everything it needs — Iron Dome, all the other needs, both military and humanitarian," he said. "And we're going to do everything we can and I'm going to urge everyone, everyone in the American government to bring back the the hostages, particularly our American hostages."
National Security Adviser Jake Sullivan assured Sunday that rescuing American hostages in Gaza is the "highest priority" for the Biden administration, but noted the rescue mission would be complicated when the US doesn't know where many of the hostages are located.
"The president has been very clear that he has no higher priority than getting Americans back safe," Sullivan said. "We have to continue to refine our understanding of where they are.
"We know there are 15 unaccounted-for Americans, but we cannot confirm the precise number of American hostages being held by Hamas at this time."
Source material can be found at this site.