The White House posted a photo to its social media pages on Wednesday of Joe Biden meeting in Israel with what the White House called "first responders", but were actually U.S. troops. The photo was later deleted from postings on White House accounts Instagram, Facebook and X Twitter.
The photo showed Biden greeting several U.S. troops in a room with U.S. and Israeli flags set in front of blue drapes. The photo was captioned, "In Israel, President Biden met with first responders to thank them for their bravery and the work they're doing in response to the Hamas terrorist attacks."
A screen caption of the post on Instagram was edited to protect the identities of the U.S. troops in the photo. This writer saw the original photo on the White House X Twitter feed on Wednesday that showed the faces of the soldiers.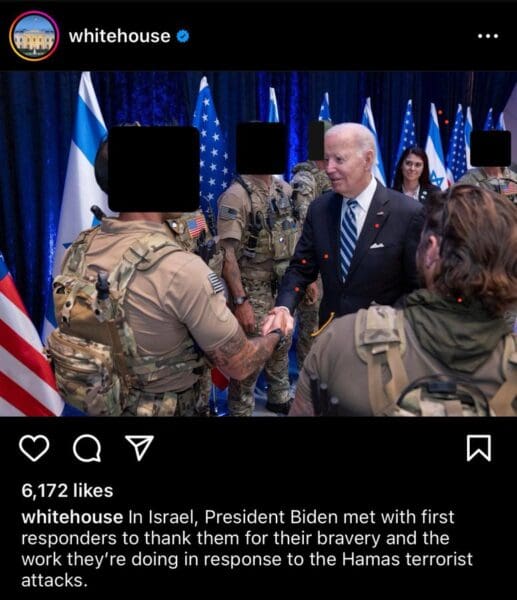 TGP photo of cache version of the White House Facebook page that shows the same caption for the since deleted photo:
An error of this magnitude would provoke calls for impeachment of President Trump on MSNBC and CNN and by the likes of Rep. Eric Swalwell (D-CA) and Rep. Adan Schiff (D-CA). But so far crickets from the media and Democrats.
Credit to Sam Shoemate for calling out the White House:
The Whitehouse media team shared this picture last night (I added the black boxes) without blurring or censoring the faces of the "Delta Force" (CAG) operator's faces. They deleted it an hour later after hundreds of thousands had already viewed it.

This is a massive failure on… pic.twitter.com/ROegvYWzit

— Sam Shoemate (@samosaur) October 19, 2023
Source material can be found at this site.