Amid the escalating tensions in the Middle East, over 12,000 personnel from the US Navy and Marine Corps aboard ten warships have either reached or are en route to the Eastern Mediterranean, as reported by Nikkei Asia, citing data from the US Navy.
On Saturday, Defense Secretary Lloyd J. Austin III announced a series of actions aimed at bolstering the United States' military presence in the Middle East.
The USS Dwight D. Eisenhower Carrier Strike Group has been redirected to the Central Command area of responsibility. This move is in addition to the Navy's largest and most advanced nuclear aircraft carrier, USS Gerald R. Ford Carrier Strike Group, which is currently operating in the Eastern Mediterranean Sea.
The USS Dwight D. Eisenhower Carrier Strike Group now joins the earlier dispatched USS Gerald R. Ford group, elevating the tally of American warships in the region to 10.
The US aircraft carrier Gerald R. Ford has over 4,500 sailors on board, accompanied by five other ships carrying over 1,600 additional service members. The aircraft carrier USS Dwight D. Eisenhower has 5,000 service members aboard, with three accompanying ships carrying another 1,000 service members.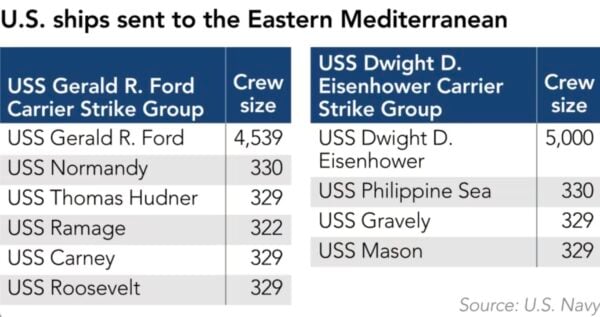 Last week, Secretary of Defense Lloyd Austin put roughly 2,000 forces on standby to "be ready to deploy."
FOX News confirmed that these forces should be ready to be deployed to the Eastern Mediterranean within 24 hours of receiving such an order.
This order was issued just a few days after a special operations Marine Corps unit participating in exercises scheduled through Oct. 22 departed early "as a result of emerging events."
On Saturday, Austin placed an unspecified number of U.S. forces under "prepare to deploy" orders.
"I have placed an additional number of forces on prepare to deploy orders as part of prudent contingency planning, to increase their readiness and ability to quickly respond as required," Austin said in a statement.
Source material can be found at this site.