The Department of Homeland Security (DHS) has put a pro-Hamas radical, Nejwa Ali, on leave after her extremist, pro-Hamas and Israel-hating social media posts were widely circulated.
Ali was hired by DHS in 2019 after working as a public affairs officer for the Palestinian Delegation to the U.S. (the PLO.)
In January, a report shared she was hired as "an Adjudication Officer for the U.S. Customs and Immigration Service (CIS)."
"Though Ali's job at DHS included vetting people to make sure they were not a threat to the country before letting them in, it's not clear that anyone from the agency vetted her. That her primary allegiance was to the Palestinians, not the United States, was evident from her social media profiles, where she posts as 'Falastine Mi Amor.'"
In case you're still wondering who's freely crossing our border…

The U.S. Gov't Hired A Pro-Hamas PLO Spokeswoman To Handle Asylum Claims

"F*** Israel, the government, and its military. Are you ready for your downfall?" DHS officer Nejwa Ali said. https://t.co/RJPsYbjrrF

— Tim Young (@TimRunsHisMouth) October 18, 2023
Her position at DHS, however, did not reduce her online hate.
The Daily Wire shared that she was "repeatedly posting pictures of Hamas terrorists parachuting in with guns and writing, "f*** Israel and any Jew who supports Israel."
One of the more disturbing images shared by Ali was a graphic of terrorists parachuting with the words "Free Palestine" below.
The image draws parallels to the moment when Hamas terrorists flew in on paraglides to slaughter young people attending a Peace Concert  at Kibbutz Urim.
DHS spokesman Matthew Bourke emailed the Washington Examiner's Gabe Kaminsky regarding Ali, stating, "This individual has been placed on administrative leave."
Bourke also spoke with Newsweek  to confirm the news, but did not elaborate on how long or what other disciplinary actions might be on the table.
"USCIS strongly condemns antisemitism and the use of violent rhetoric in any form," Bourke said. "USCIS employees are held to high ethical standards both on and off duty, including their presence on social media. Any violation of these standards is taken seriously by the agency."
Sen. Josh Hawley (R-MO) posted a copy of a letter he wrote to DHS Secretary Alejandro Mayorkas on X asking for answers about what cases Ali has reviewed in her role as adjudication officer.
Pointing out that one of Ali's social media posts includes the hashtags "#asylumseekers #palestine #refugeeswelcome," Hawley questions whether that she might make decisions in her official role that allows preference for  "certain immigration cases over others at DHS."
The Biden DHS needs to explain – now – why they had a pro-terrorist, pro-genocide anti-Semitic radical adjudicating asylum claims and why in the world she hasn't been fired pic.twitter.com/e0ct9RnfWb

— Josh Hawley (@HawleyMO) October 19, 2023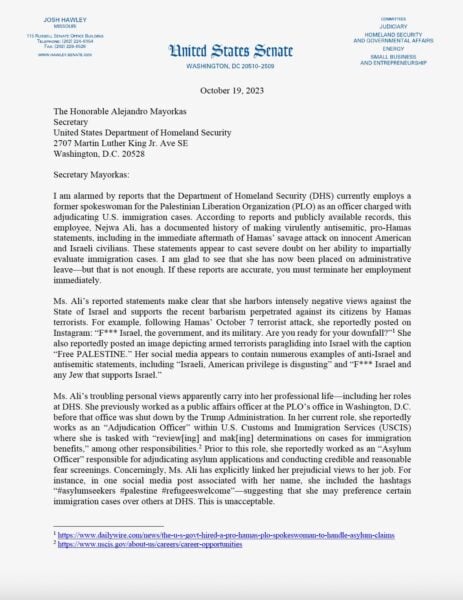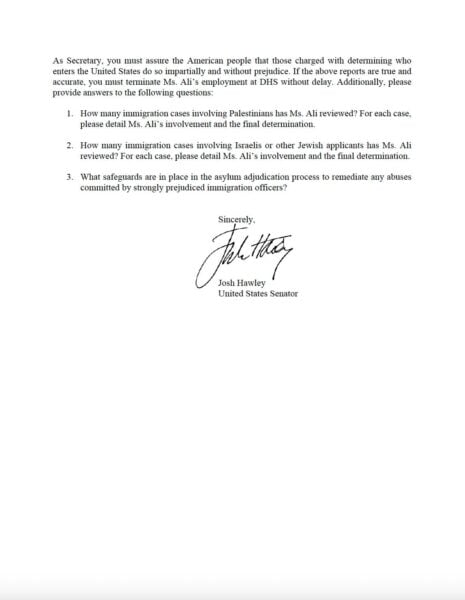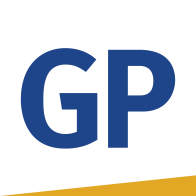 Dear Reader – The enemies of freedom are choking off the Gateway Pundit from the resources we need to bring you the truth. Since many asked for it, we now have a way for you to support The Gateway Pundit directly – and get ad-reduced access. Plus, there are goodies like a special Gateway Pundit coffee mug for supporters at a higher level. You can see all the options by clicking here – thank you for your support!
Source material can be found at this site.