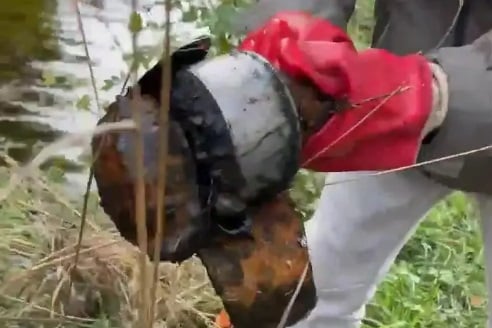 A group of magnet fishermen in Scotland pulled up a live WWII grenade from a canal, prompting a serious bomb scare.
The group, Magnet Fishing Edinburgh, made the explosive discovery at the Union Canal at Linlithgow last Sunday.
The Edinburgh News reports:
The discovery of the Mills hand grenade by Magnet Fishing Edinburgh on Sunday at around 3.30pm led to police and ambulance services joining the explosive ordnance disposal (EOD) officers at the scene. The find came on the same day that another grenade from the same era was discovered at the Harrison Park section of the Union Canal and in the same week that a mortar shell was pulled from the waterway at Chesser.
The fishermen called law enforcement as soon as they realized what they had caught.
"I found it with a heavy duty magnet on the end of my rod. Anything magnetic in the water would stick to it," one of the fishermen, who asked not to be named, told the paper. "As soon as I found this grenade I phoned the police, who came out and cordoned off the area. Then an ambulance arrived and the explosive ordnance disposal officers showed up."
A controlled explosion was carried out to disable the explosive device.
The fisherman said that he lost his magnet in the process, but plans to get a new one and keep on fishing.
"We were there for a good two hours. The EOD took it away and took my magnet as well," he continued. "I got it back the last time I made a similar discovery but I didn't want to mess with it this time. And the bomb squad said they couldn't remove it so they took it all away and blew it up, I don't know where though. The magnet I had on Sunday was £200. So it was cool to find the grenade but a bit nippy to find it and lose my magnet. But I'm going to get a new magnet and get back out to the canal. Losing my magnet won't stop me."
Another member told the paper, "Linlithgow is usually quite clean, we just went up there to see if we could find anything historic. There are certain areas that are bad, but Linlithgow is normally clean. So we were quite surprised to make this discovery. I've now found four old military pieces in the past three years. Grenades at Polwarth, Broxburn and a mortar round also, as well as the latest one."
Source material can be found at this site.