Lewiston Maine Police Department has released the photo of the mass shooter, Robert Card.
The Maine State Police have identified Robert Card as a person of interest in a horrifying mass shooting that occurred at two popular locations in Lewiston, Maine: Schemengees Bar Grille Restaurant and the Sparetime Recreation.
On Wednesday night, Card opened fire at both a bowling alley and a bar in Lewiston, Maine. The horrific event resulted in at least 22 fatalities and left 50 or more injured, plunging the state's second-largest city into turmoil, CNN reported.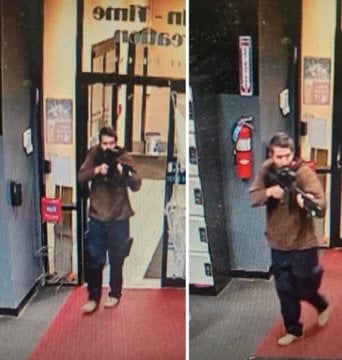 "Law Enforcement is attempting to locate Robert Card 4/4/1983, as a person of interest regarding the mass shooting at Schemengees Bar and Sparetime Recreation this evening. CARD should be considered armed and dangerous. Please contact law enforcement if you are aware of his whereabouts."

According to unverified information from the Maine Information and Analysis Center:
Robert Card, born on April 4, 1983, was last known to be operating a white 2013 Subaru Outback with a black bumper, registered in Maine under the plate 9246PD. His last known address is 941 Meadow Road, Bowdoin, Maine.
Card, a trained firearms instructor, is believed to be affiliated with the Army Reserve, stationed out of Saco, Maine. What makes the situation even more disquieting is that law enforcement officials have revealed that Card had recently reported experiencing mental health issues, including hearing voices and making threats to carry out a shooting at the National Guard Base in Saco.
Even more concerning is the fact that Card had been committed to a mental health facility for a fortnight in the summer of 2023, after which he was released.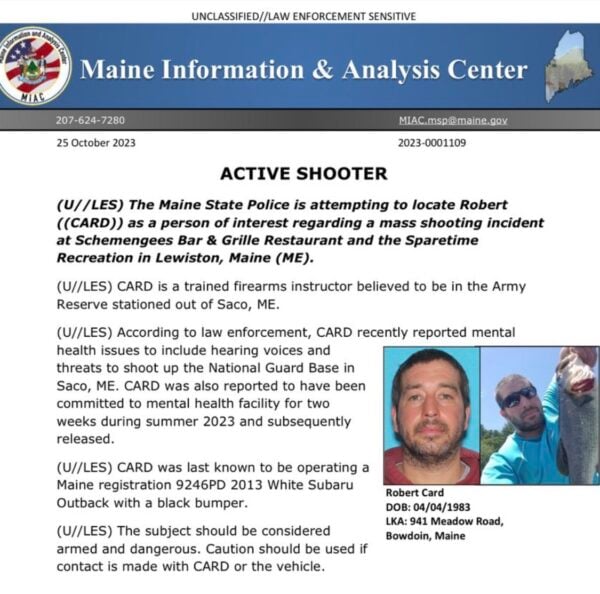 Law enforcement has warned that Card should be considered armed and extremely dangerous. Extreme caution should be exercised if there is any contact made with him or the vehicle he is believed to be operating.
The Maine State Police are leading the investigation, with support from the FBI, and are urging anyone with information to come forward immediately. Communities in and around Lewiston are on high alert.
According to the new update, the vehicle of interest has been found in Lisbon. Officials are urging the residents in Lisbon to stay vigilant. Card is still at large.
Police are searching for "person of interest" Robert Card in the Maine mass shootings. Card is at large and police say he is considered "armed and dangerous." pic.twitter.com/WwgVLpInq4

— MSNBC (@MSNBC) October 26, 2023
This is a developing story. We will update this article as soon as additional details become available.
Source material can be found at this site.