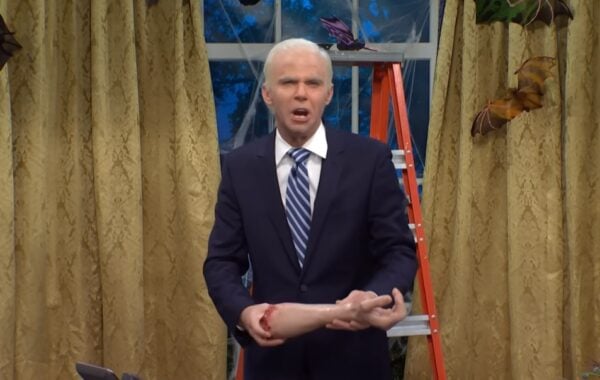 Saturday Night Live lightly roasted Joe Biden over his age this week in a Halloween skit with a cameo from Christopher Walken.
The cold open began with Mikey Day playing the part of Biden, who was planning to climb a ladder in the Oval Office to put up Halloween decor.
"I want to put everyone at ease," said the Biden character. "Nothing puts people at ease like an 80-year-old man hanging Halloween decoration."
The Biden character began shakily climbing the ladder, stopping on each rung.
"That needs to go up there," Biden said, trying to hang a fake bat. "On second thought, let's do that later."
"Ladders are fun, though," Biden said, after getting off the ladder. "When I was a kid, this was cutting-edge technology. Like an iPad."
Biden turns to "House Speaker Mike Johnson," played by Michael Longfellow, and asks "How did you end up as Speaker?"
"No one knows," said Johnson. "I'm now second in line to replace you. So I'm excited to see more of this whole ladder thing."
At the conclusion of the skit, Walken enters playing the "ghost of All Hallow's past."
"How did you get in here?" Biden asked. "Did you come in through the chimney?"
"Close, the toilet." Walken replies. "It's the Halloween way."
Source material can be found at this site.