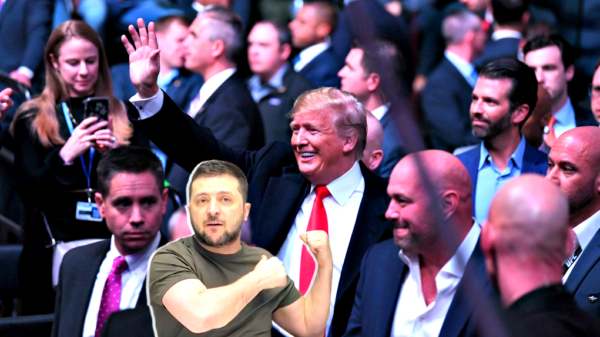 Has Kiev noticed where the real political power is in today's America, or is it just a way to pressure the Biden 'administration from hell'?
Before he was an unshaven, military-clad worrisome wartime leader we see today, Ukrainian President Volodymyr Zelensky was just a smiling, smart-looking, suit-wearing eastern European leader negotiating with US president Donald Trump in seemingly good faith.
However, a 'perfect' phone call between Trump and Zelensky was later weaponized by Democrats and used as justification for his first 'impeachment hoax'.
The Ukrainian leader refused to investigate the vast array of evidence of Biden family corruption tied to his country.
Now, as Trump stands out as the clear favorite to return to the White House in the run up to 2024 election, one is left wondering if the newly-revealed Zelensky rapprochement to the 'America First leader' is a new pragmatic geopolitical play by Kiev, or else is just a way to blackmail Biden into continuing to help them.
Zelensky now is reportedly 'eager' to negotiate directly with Trump, an 'insider source' in Kiev told Ukrainian outlet Strana on Sunday.
RT reported:
"An individual close to Zelensky's office reasoned that Trump, as the de facto 2024 presidential nominee for the Republican Party, effectively controls the flow of foreign aid to Ukraine, since Republicans hold the majority in the House of Representatives and the House has been responsible for blocking the White House's efforts to continue funding the Ukrainian conflict. 
Zelensky's cabinet 'understands this, and therefore is trying to organize a direct conversation between Trump and Zelensky', the source told Strana.
Trump publicly turned down a previous invitation from Zelensky to visit Kiev earlier this month, explaining that he was concerned it would be 'inappropriate' to go to Ukraine as Zelensky was currently 'dealing with' Trump's successor and 2024 rival, President Joe Biden, and Trump 'would not want to create a conflict of interest'.
The Ukrainian president had issued the invitation publicly as a challenge to Trump regarding the latter's boast that he could end the conflict between Russia and Ukraine in just 24 hours if reelected president in 2024. Zelensky in turn declared that if Trump would just come to Kiev, he would need just 24 minutes to convince the American that 'he can't manage this war. He can't bring peace because of the [Russian President Vladimir] Putin'." 
While Joe Biden has been the great financial backer of Ukraine's military effort against Russia, Kiev has realized that his reelection in 2024 is becoming a bit of a long shot, with polls showing an increasingly strong Trump pulling further and further ahead despite the many politically-based prosecutions he faces.
After $75 billion of US-taxpayers money sent to Ukraine in two years, Biden has scraped the barrel of the funds it set aside for the conflict.
Biden's $100 billion national security package including $61.4 billion for Ukraine was defeated in Congress when new House Speaker Mike Johnson demanded separate bills to fund the conflicts in Ukraine and Israel.
Source material can be found at this site.