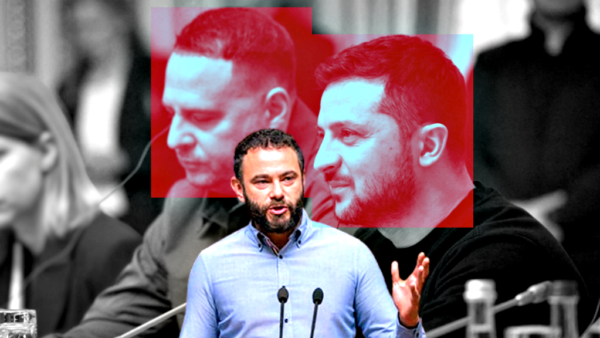 It seemed just a play on Kiev's shadow civil war, but it turns out there are also Burisma corruption ties involved.
The Ukrainian lawmaker charged with treason for 'misinformation' has been remanded in detention for 60 days – and, as the story unfolds and we get a better notion of who Oleksandr Dubinsky is, it turns out the story involves Joe and Hunter Biden, Donald Trump and Rudy Giuliani.
Initial information was that Dubinsky was in hot water for his recent comments on the chaotic situation in the country, the unchecked corruption in Volodymyr Zelensky's circle.
He wrote that the 'real president' was the Head of the Presidential Office Andrey Yermak, who went to Washington to gain authorization to ditch Commander in Chief Valery Zaluzhny, currently involved in a power play with Zelensky.
Ukraine Human Rights Abuses reported:
"Zelensky eliminates any political competitor or even critic of his actions.
Ukrainian parliament member Dubinsky, once a member of Zelensky party turned Zelensky critic is charged with treason and sent to jail without bail by the court at night."
Dubinsky was once a star at the 'Servant of the People' party.
"Slowly but surely the regime is devouring itself. It is also a gift for Biden, after all, it was Dubinsky who leaked the Poroshenko-Biden tapes, tying him to Hunter Biden-Burisma corruption."
Yes. We read that right.
Dubinsky is on a U.S. sanctions list for 'election meddling' – for releasing evidence of rampant Burisma corruption that would implicate Joe and Hunter Biden.
Reuters reported:
"'The court supported the prosecution's request to impose a remand on me in the form of detention for 60 days until January 12, 2024', Dubinsky said in a video posted on his Telegram channel. Dubinsky did not detail the reason for his detention."
SBU said that Dubinsky was a part of a criminal organization created in 2016, that included an ex-lawmaker, and an ex-prosecutor.
"'It is established that on the instructions of the Russian special services, it organized events to discredit the image of Ukraine in the international arena in order to worsen diplomatic relations with the United States and complicate Ukraine's accession to the European Union and NATO', the State Investigative Bureau said in a separate statement published on its website."
The Guardian had further detail:
"Former MP Andriy Derkach, and former prosecutor Kostiantyn Kulych, are also accused of being part of the network. Both are believed to be in hiding outside Ukraine.
'The main task of this organization was to take advantage of the tense political situation in Ukraine and discredit our state in the international arena', the SBU statement said.
'For this, the group received money from Russian military intelligence. This financing amounted to more than $10m [£8m].'."
Trending: UPDATE: US House Votes with 8 Republicans Joining Democrats to Shelve Impeachment of DHS Secretary Alejandro Mayorkas Who Has Overseen the Purposeful Invasion at the US Border
In late 2019, as the 'first impeachment hoax' charges against Trump were being drafted, Dubinsky and Derkach claimed they had uncovered corruption at Burisma.
This can't be a coincidence – so now we wait to assess what is the underlying play here.
Read more:
Ukrainian Lawmaker Is Charged With Treason for 'Spreading Misinformation' – But What He Wrote About the Kiev Regime Will Shock You!
Source material can be found at this site.