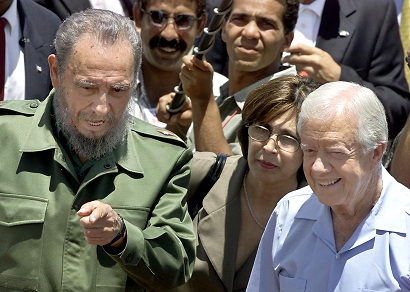 The Castro regime in Cuba currently has three key objectives: The first is to manage its present economic crisis. The second is to protect the stability and longevity of the revolution's senior leadership as it succumbs to the infirmities of age, cumulated policy failures, corruption, and growing dissent. Finally, the regime aims to insulate the island and the Cuban Revolution from the winds of democratic/popular change that are blowing so strong in the Middle East and elsewhere.
To advance all three objectives, the Cuban regime extended an invitation to former U.S. President Jimmy Carter to visit Cuba, an invitation the former President unwisely accepted.
In Cuba between March 28 and 30, Carter will be lectured on the merits of Cuba's march to "market socialism." He will likely find these steps to be positive and criticize the U.S. for failing to respond with the removal of travel and trade restrictions.
By meeting with Raul and possibly Fidel, Carter will help re-legitimate the leaders whose repression of the Cuban people continues unabated. The Cuban regime is currently engaged in a vigorous campaign against what it calls a "cyber-warfare" directed against the regime from abroad and abetted by a handful of U.S.-backed mercenaries on the island.
The meeting will gloss over the Cuban regime's unwavering support for Libya's Muammar Qadhafi and condone the travesty of Fidel's comparison of U.S.–NATO actions in Libya with the Fascists/Nazi attacks on Republican Spain in the 1930s.
The visit will undercut the harder line taken by President Obama just last week in Santiago, Chile. There, in his major Latin American policy speech, Obama voiced frustration with the absence of democratic change in Cuba and reminded his audience that the Cuban people are "entitled to the same freedom and liberty as everyone else in this hemisphere."
Leaders in Havana will go to pains to show that all that holds back better U.S.–Cuban relations are the misguided policies of Washington. Jimmy Carter will likely concur.
For the sake of the historical record, it should be recalled that Carter's previous May 2002 visit to Cuba was followed less than a year later by massive arrests of 75 Cuban dissidents in Cuba's infamous Black Spring.
Speculation runs high that Carter may be able to win the release of imprisoned U.S. citizen and aid worker Alan Gross, recently convicted of espionage and made the scapegoat for U.S.-backed pro-democracy efforts in Cuba. Such an action would reaffirm the magnanimous nature of the Castro brothers and deflect criticism away from the regime's continued tyranny.
Source material can be found at this site.