Jihadis training in your neighborhood?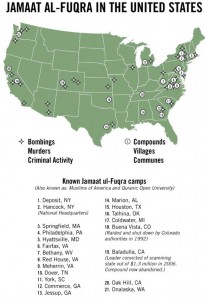 Investigator describes setup as infrastructure for attack
One of the investigators who worked on a report about terror training camps operating inside the United States describes the network as no more or less than an infrastructure for attack.
Its a documentary called "Homegrown Jihad: Terrorist Training Camps Around the U.S.," and how it offers evidence that "Muslims of America" operates a series of training camps in the U.S.
Jason Campbell is project manager for the Christian Action Network, which was behind the training camps investigation.
He described some of his visits to the camps, which have been located in New York, Massachusetts, Pennsylvania, Maryland, Virginia, West Virginia, Tennessee, South Carolina, Georgia, Alabama, Texas, Oklahoma Michigan, Colorado, California and Washington.
"The one that really gets you concerned is in Georgia," he said. "You go down a road and all of a sudden it's just woods, and there are two roads that go straight down to the camp. It's dark because of the trees. And one of the roads is named Mecca and the other Medina."
"If there ever was an infrastructure for terrorism, this is it," he said.
He said the camps themselves are in remote areas with few neighbors, and mostly self-sufficient, such as having their own water supply and often food stores. They also are closed to outsiders, with the women sometimes taking off-campus jobs, but little other interaction.
"If you died there, they bury you there," he said. "There are no permits from the Department of Health…"
A video has been created describing the investigation:

Campbell also said the camps he's visited have a mosque and frequently the living conditions are "miserable."
The locations are run by Muslims of the Americas Inc., a tax-exempt organization, and it has been directly linked by court documents to Jamaat ul-Fuqra. The organization operates communes of primarily black, American-born Muslims throughout the U.S. The investigation confirmed members commonly use aliases and intentional spelling variations of their names and routinely deny the existence of Jamaat ul-Fuqra.
The Muslims openly recruit through various social service organizations in the U.S., including the prison system. Members live in compounds where they agree to abide by the Islamic laws of Jamaat ul-Fuqra, which are considered to be above local, state and federal authority.
U.S. authorities have probed the group for charges ranging from links to al-Qaida to laundering and funneling money into Pakistan for terrorist activities. The organization supports various terrorist groups operating in Pakistan and Kashmir, and follows Sheikh Mubarak Gilani.
He boasts of conducting "the most advanced training courses in Islamic military warfare."
The jihadist organization is thought to be responsible for nearly 50 attacks on American soil, but the Obama administration refuses to list it among foreign terrorists.
In a recruitment video captured from Gilani's "Soldiers of Allah," Gilani states in English: "We are fighting to destroy the enemy. We are dealing with evil at its roots and its roots are America."
Jamaat ul-Fuqra is thought to have been responsible for the beheading murder of Wall Street Journal reporter Daniel Pearl in Pakistan.
The documentary called "Homegrown Jihad: Terrorist Training Camps Around the U.S." provides compelling evidence of how "Muslims of America" operates, and already has caught the attention of neighbors and local police officials.
Gilani's American headquarters is in Hancock, N.Y., where training is provided to recruits who are later sent to Pakistan for more jihadist paramilitary training, according to law enforcement authorities.
A Justice Department report to law enforcement agencies, prepared in 2006, provides a glimpse into how long  Jamaat ul-Fuqra or "Muslims of America" has been operating inside the U.S.: "Over the past two decades, a terrorist group known as Jamaat ul-Fuqra, or 'Community of the Impoverished,' has been linked to multiple murders, bombings and various other felonies throughout the United States and Canada."
Gilani's "communes" are described by law enforcement as "classically structured terrorist cells."
A covert visit to a Jamaat ul-Fuqra encampment in upstate New York by the Northeast Intelligence Network found neighboring residents deeply concerned about military-style training taking place there but frustrated by the lack of attention from federal authorities.
Campbell said the compounds raise his concern because of their proximity in Georgia to a prison, in New York to a water supply and other such circumstances.
He said the information about the camps has come from law enforcement sources, from the organization's own investigation, and, tellingly, from information from insiders who have left.