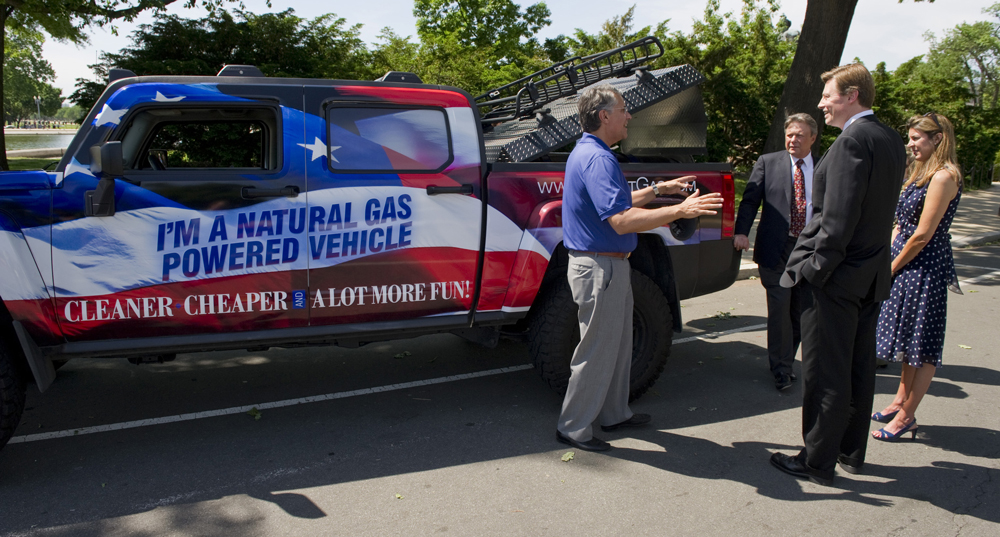 America's chemical industry is one of the biggest consumers of natural gas. But it is stridently opposed to government interference and taxpayer-funded subsidies for the production, use and purchase of natural gas vehicles.
American Chemical Council chief executive Cal Dooley, a former Democratic congressman from California, spoke at today's Bloggers Briefing about the organization's criticism of the NAT GAS Act. (Watch a recording of Dooley's remarks.)
"What is being proposed under the Pickens Plan and the NAT GAS Act is to create a $5 billion taxpayer subsidy that would support the use of natural gas for transportation purposes," Dooley said at Heritage this afternoon. "It picks winners and losers. We don't think that's the appropriate role for government."
Dooley fears the government's interference would stymie growth and jeopardize jobs at a time when the natural gas industry is booming. In fact, he said production of shale gas has the potential to create more than 400,000 new jobs in the chemical sector, totalling more than $132 billion in economic output and about $4.4 billion in local, state and federal taxes.
Heritage's Nick Loris has argued that the NAT GAS Act is the wrong approach for Washington on energy policy. He believes lawmakers would be better off eliminating subsidies instead.
"They provide special benefits to one industry, distorting the market and misallocating resources away from potentially more economically viable alternatives," Loris wrote last month. "If Congress truly wants to promote NGVs, it should eliminate subsidies in the transportation industry and consider other market-oriented policies—such as full expensing, lowering corporate tax rates, and removing barriers to drilling—that would incentivize the production of profitable endeavors and ultimately lower prices through competition."
Dooley shares the concern. He said the legislation will drive up costs for America's manufacturing sector and divert resources.
He added: "At a time when Congress is focused on getting our fiscal house in order, when we're trying to ensure we get spending under control, why would we be asking taxpayers to cough up another $5 billion to subsidize one special use and consumption of it?"
Heritage Action is tracking the legislation closely. So far 14 co-sponsored have withdrawn their support for the legislation.
Source material can be found at this site.