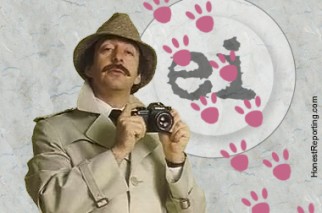 Mazal tov to Electronic Intifada for a quite superb piece of investigative journalism, "exposing" the day job of Israeli student Smadar Bakovic.
Smadar recently made news for taking on her anti-Israel professor at the UK's Warwick University and getting her Masters degree thesis upgraded – an effort which began more than 5 months prior to her employment at MediaCentral, a project of HonestReporting.
According to Electronic Intifada, under the headline of "Exposed: UK university student claiming bias works for project of Israel pressure group", the Jewish Chronicle:
drew heavily on Bakovic as its source, but portrayed her merely as an Israeli student, without mentioning her MediaCentral affiliation.
Was there any effort made to hide the fact that Ms. Bakovic is an employee of MediaCentral, a project of HonestReporting that provides services for foreign press in Israel? Certainly not.
Despite the best efforts of anti-Israel activists to portray pro-Israel advocacy as some sort of cloak and dagger enterprise in the style of the Protocols of the Elders of Zion, the reality is really quite benign and transparent.
While Electronic Intifada proudly claims to have "outed" a sinister connection between one student's successful challenge to anti-Israel academia and HonestReporting, a simple Google search reveals Bakovic's current employment. Even Inspector Clouseau could have found this information with a minimum of effort.
While we are proud to work with Smadar Bakovic, the facts speak for themselves:
Smadar's struggle with Warwick University authorities began in April 2010 at her own instigation and with no connection whatsoever to MediaCentral.
Smadar finished her dissertation by the end of August 2010 – before she had even started working for MediaCentral.
Note to Electronic Intifada: There is absolutely no connection between Smadar Bakovic's academic issues and MediaCentral.
That Electronic Intifada believes that it has some sort of scoop that changes the parameters of the story is yet again an example of how so much of its content, like the anti-Israel delegitimization campaign in general, is based on hyperbolic fantasy and demonization.
And just for good measure, Electronic Intifada includes old information about HonestReporting taken from a cached version of our former website as well as a brief bio of me, HR's Managing Editor, straight from the current HR site, as if my employment record has any connection to Smadar Bakovic's story.
I'm flattered that EI considers me worthy of mention and I hope that its "investigative journalist" found the HR site an interesting and informative read.
The Smadar Bakovic Story
The Times Higher Education supplement covers the full story:
An Israeli postgraduate student is claiming victory on her dissertation regrade after alleging her supervisor had "anti-Israel" prejudices.
A complaint by Smadar Bakovic, 35, who lives near Jerusalem, was upheld by an academic committee at the University of Warwick.
The complaint arose while Ms Bakovic was studying for a masters degree at the university's department of politics and international studies in 2010.
She says she became uncomfortable with her tutor Nicola Pratt, assistant professor in international politics of the Middle East, after learning she was among the signatories on a January 2009 letter to the Guardian saying that "Israel must lose" following its "assault on Gaza".
The letter called for a programme of boycott, divestment and sanctions against Israel.
Ms Bakovic's request to switch supervisors in April 2010 was rejected by the department because it was against university policy.
In November 2010, Ms Bakovic was awarded a pass for her dissertation – marked by Dr Pratt and counter-marked by a second academic.
Ms Bakovic decided to appeal the decision and requested a regrade, saying Dr Pratt had commented that she had a tendency to "adopt Israeli/Zionist narratives as though they were uncontested facts".
This request was denied by the university, but it later relented and offered Ms Bakovic the opportunity to submit a revised dissertation to a different lecturer.
She has now been awarded a distinction and claims the higher grade is evidence for Dr Pratt's "anti-Zionist" bias against her.
Read more here.
More coverage of the issue can be found in:
Image: CC BY-SA HonestReporting.com, flickr/jbcurio.
Source material can be found at this site.