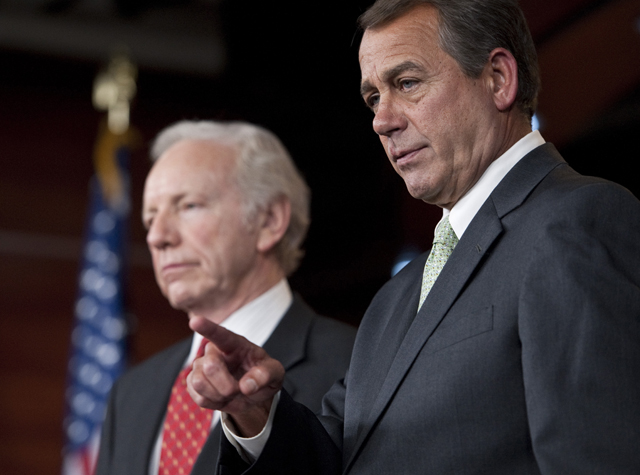 A bipartisan group of lawmakers today promised to defend the D.C. Opportunity Scholarship Program for low-income families following President Obama's decision to eliminate funding in his budget.
"The bipartisan, grassroots coalition responsible for keeping the Opportunity Scholarship Program alive will continue speaking out, and I'll be standing alongside them every step of the way," Speaker John Boehner (R-OH) said Tuesday.
Boehner teamed with Sen. Joe Lieberman (I-CT) last year to sponsor legislation to save the program. It was eventually reauthorized for five years under the bipartisan budget agreement. More than 1,600 students are currently benefiting from the scholarships, which provide an alternative to D.C.'s failing and dangerous public schools.
Obama's budget, released Monday, would zero out funding. An administration official told Fox News, "we support funding so the kids now in the program can stay in the program but, otherwise, winding it down."
Lawmakers, however, were unconvinced of Obama's rationale, particularly in light of the program's popularity and success.
"I am very disappointed to see that the President has proposed zeroing out funding for the District of Columbia Opportunity Scholarship Program," Lieberman said in a statement. "This is a highly successful program that allows poor children in the District of Columbia to escape from failing schools and get a quality education."
Lieberman noted that just last week the D.C. Children and Youth Investment Trust Corp., which administers the program, held an application event that drew 700 families.
The program is popular among low-income families in the District of Columbia. Enrollment is up 60 percent over last year, according to Boehner's office. More than 10,000 families have applied to participate since it began in 2004.
"The D.C. Opportunity Scholarship Program has an excellent track record of success in giving underprivileged D.C. students access to a lasting, quality education," Boehner said. "While the education establishment in our country sees greater competition in our schools as a threat, in reality it can and should be a foundation for education reform."
Sen. Susan Collins (R-ME), a close ally of Lieberman, called Obama's funding cut "both disappointing and short-sighted."
"As the Department of Education's own Institute of Education Sciences makes clear, students that participated in this program are more likely to graduate from high school than those that did not, a clear indicator of program success," Collins said in a statement. "The D.C. Opportunity Scholarship Program has provided additional educational options for some of our nation's most at-risk children and has clearly filled a need, a fact that is illustrated by the long lines of parents waiting to enroll their children in the program. For many of these students, this was their first opportunity to secure a high-quality education."
Federal evaluations revealed a stark difference between students who used the scholarships compared to those in public schools. Students with a scholarship graduated at a rate of 91 percent; the graduation rate for D.C. Public Schools is 55 percent.
Heritage's Lindsey Burke noted on The Foundry that the $8,000 scholarships ($12,000 for high school) are a bargain compared to the money spent by D.C. Public Schools — upwards of $18,000 per pupil.
"Not that long ago, President Obama said on the Today show that he would not send his own children to D.C. public schools," Burke wrote on National Review Online. "For seemingly political reasons, Obama has decided to stand in solidarity with the education special-interest groups and against this highly successful school-choice program."
Source material can be found at this site.