After several weeks of leftist protests and dictatorial like leftist mayoral calls to ban conservative businesses in their cities,  all this stemming from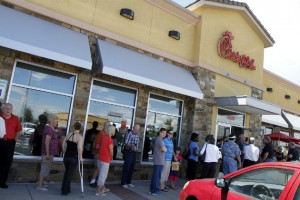 Chick-fil-A president Dan Cathy's  public comments  of supporting a traditional Christian marriage.  He was attacked by the left for having Christian values, and an opinion.
At Chick-fil-A locations across the country, people voted with their wallets as hundreds of thousands of supporters of the fast-food chain, right to religion and free speech; turned out in droves on Wednesday,  jamming many of Chick-fil-A's 1,600 U.S. stores.  Gay and liberal protesters, for the most part, stayed away.
In Englewood, Colo., an overcapacity lunch crowd spilled into the Chick-fil-A parking lot while dozens queued up inside.
By 11 a.m., 14 cars filled the drive-thru lane. A half hour later, the back-up had tripled: At one point, 37 vehicles slowly pushed through the parking lot in serpentine fashion, transforming the lot into a makeshift drive-thru. Three employees clad in neon-green parking vests directed traffic and took orders.
At a table outside, Evelyn Walker, 26, and her husband, Tim, 27, ate spicy chicken sandwiches and waffle fries in support of former Arkansas Gov. Mike Huckabee's "Chick-fil-A Appreciation Day."
More than 500,000 people RSVP'd to Huckabee's event on Facebook.
For those like John Mohler, 50, of Thornton, Colo., eating at Chick-fil-A on Wednesday was about defending free speech. Mohler said he doesn't share Cathy's belief, only his rights to air them.
"I'm not sure I agree with his position on gay marriage," said Mohler, who drove to Englewood from downtown Denver on his lunch break. "But I applaud the owner for speaking his mind, and that's why I'm here."
In Chicago where the liberal mayor said he abuse his power to illegally ban such businesses from opening,  throngs of supporters flocked to the super long line at Chick-fil-A,  where the line of customers snaked through the entrance and around the corner.  While there were no protesters, some supporters couldn't get away from work long enough to buy their meals. Deborah Irvine, 28, and Nicte Leeg, 27, wanted to support the company, but the line was too long. Irvine said she'd likely donate to the corporation instead.
"It's about freedom of speech and people being entitled to their own opinion," Leeg said.
"It's a shame that the gay community that asks for tolerance is so intolerant of other opinions," Josh Walker said as he ate lunch. "It's nice to have a company that stands by its morals."
"Since the company isn't doing anything illegal, I think the whole thing has been blown out of proportion," a patron who wished to remain anonymous, said. "I like the food, and that's what's important."
In Missouri City, Texas, hundreds of customers descended on the Chick-fil-A despite 100-degree heat. At another Chick-fil-A in the Glenbrook Square Mall in Fort Wayne, Ind., a line of about 300 people stretched past the relatively empty Panda Express and Taco Bell.
"The Bible says marriage is between one man and one woman," Beth, a patron who declined to give her last name, said. "But the debate is not about the Bible. It is about whether the CEO of a private business has the right to voice his own opinions. If you say no, that's pretty darn scary. What even scarier is liberal mayors willing to abuse their position of power to not allow certain businesses based on politics.