Last summer the heartwarming movie "Honor Flight" premiered before record-breaking crowd of 28,442 at Miller Park in Milwaukee. The film, which chronicles the lives and battlefield experiences of four living World War II veterans, is a powerful testament to a Midwest community's effort to honor American heroes with a trip to their memorial in Washington, D.C.
The Heritage Foundation will host a special screening of the documentary "Honor Flight" this Wednesday, June 5, beginning with a reception at 5:30 p.m. Click here to RSVP.
Here's a description of the movie:
The film features Orville Lemke, a former plumber and beloved father of nine who fights to hold off terminal cancer so he can make the trip, and Julian Plaster, an 89-year-old poet who has survived almost all of his friends and family. Honor Flight also chronicles the stories of veterans Joe Demler and Harvey Kurz. Joe, a soft-spoken retired postmaster, was famously pictured in Life magazine as "the Human Skeleton" upon his liberation from a German POW camp. His comedic sidekick, Harvey, saw the iconic flag go up at the Battle of Iwo Jima, unbeknownst to the shoppers he bags groceries for at the local Pick n' Save.
Wednesday's screening at Heritage is one of many taking place across the United States. (Find a screening near you.) The film is also available for download on iTunes and the DVD can be purchased on Amazon, where it is currently the top-rated DVD.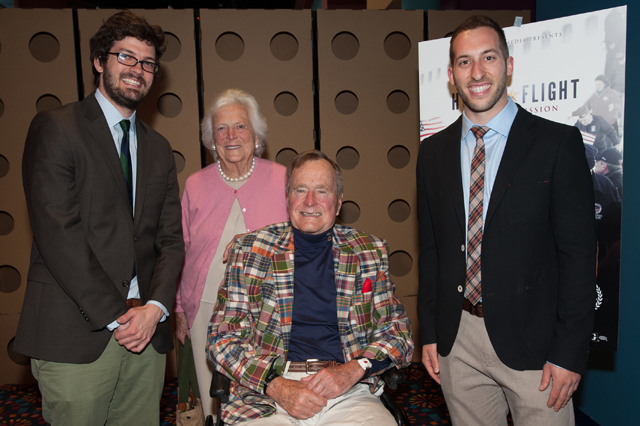 In advance of Memorial Day, former President George H.W. Bush and First Lady Barbara Bush hosted a screening of "Honor Flight" in Kennebunkport, Maine, with director Dan Hayes (left) and producer Clay Broga (right). The screening was also attended by Joe Dean, chairman of Stars and Stripes Honor Flight, and Demler, the veteran featured in the documentary.
"Tonight when you go to sleep — and say your prayers of gratitude for those who served so many years ago in World War II — remember, too, that at this moment there is a young man or woman half-way around the world, sitting alone in the dark, waiting to go out on patrol," Bush said in a statement. " They may be tired, and even a little scared – but every day they put on that uniform, and they lay their lives on the line for each of us, to keep us free and safe."
SnagFilms launched a social-media campaign in May called "Honor Our Heroes." Its goal is to highlight military stories that have touched families all across America. You can pay tribute to the heroes on Facebook.
"Honor Flight" was produced by Freethink Media, a video production company "devoted to sharing stories about freedom, human well-being and achievement to positively change the way people think and live."
Source material can be found at this site.