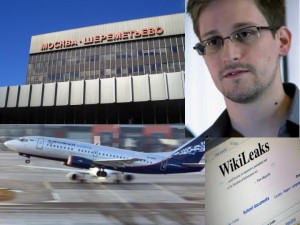 The Hong Kong government announced that it had allowed the former National Security Agency contractor to depart its territory, The New York Times reports. Snowden, 29, was the whistleblower exposing the United States government surveillance of internet and telephone communications around the world. He has as been charged with espionage, theft and conversion of government property
Snowden flew to Moscow on a one-way ticket, though it's unclear if Russia is his final destination. An Aeroflot flight from Hong Kong carrying Snowden landed at Sheremetyevo International Airport in Russia on Sunday. Snowden left Hong Kong "on his own accord for a third country," the government in Hong Kong said Sunday afternoon.
Snowden's final destination was unclear. Russian news agency Interfax and Radio Ekho Moskvy reported that Snowden was booked on a flight to Cuba and then from Havana to Caracas, Venezuela. The next Aeroflot flight to Havana leaves Monday. Ecuador and Iceland have also been mentioned as possibilities.  Russia, Cuba are  not extradition countries,   Venezuela has an extradition treaty with the United States but due to strained relation may not honor it.
Snowden is being aided in his travel by WikiLeaks, the anti-secrecy organization that published hundreds of thousands of classified documents. The group posted on Twitter about 5 a.m. EDT that Snowden was "currently over Russian airspace accompanied by WikiLeaks legal advisors." The organization later said Snowden was accompanied on his flight to Moscow by Sarah Harrison, who the organization said is a UK citizen, journalist and legal researcher working with the WikiLeaks legal defense team.
Via The New York Times.