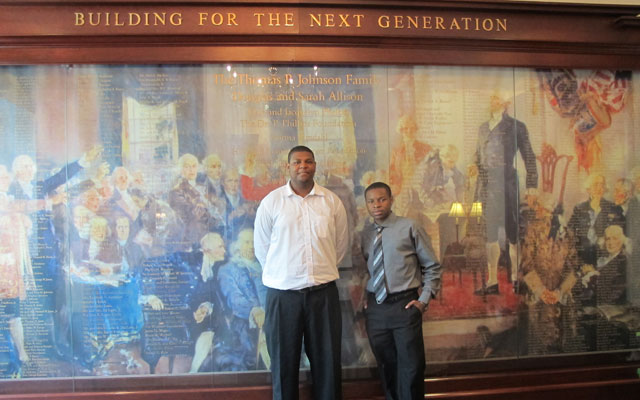 This marks the seventh summer that Heritage and the Cesar Chavez Public Charter School for Public Policy have partnered together to provide fellowships to its students, who must complete a fellowship of their choosing to graduate. Chavez educates more than 400 high school students, and two of those students, De'Quan Staton and Jamar Traynham, had the opportunity to work at The Heritage Foundation for three weeks this summer.
Admission into the Cesar Chavez Public Charter School is very competitive. In order to be accepted to the school, students must show motivation and academic excellence in math and English placement tests, parental support, and clean disciplinary records. At Chavez, students are given access to college advisors and SAT preparation courses, and they complete a rigorous curriculum that includes four years of Spanish, policy-driven courses, and a senior thesis class.
Regarding the school's emphasis on college, De'Quan explained, "First, I didn't think college was for me, but all four years at Chavez, they emphasize college, college, college. They help us to understand that there's a place for everyone in college, and now I'm planning on attending. I got accepted to two colleges!" This is an amazing achievement for many Chavez students, since they are often the first in their families to attend college.
Graduates from Chavez have participated in countless community service hours, completed CAP and Capstone projects (projects focused on community problems such as litter in the streets or rising obesity rates), researched and presented a senior thesis, and taken part in a fellowship of their choosing at organizations across the D.C. area.
During their fellowships, these students participated in a number of policy briefings and First Principles luncheons with Heritage's college interns in the Young Leaders Program. The students received sound guidance and direction regarding future plans, including college and career advice from mentors at Heritage.
At the end of their fellowships this summer, De'Quan and Jamar gave a presentation explaining the work they completed at Heritage. These two Chavez students had the opportunity to work directly with Heritage policy analysts, who helped them collect extensive research on their topics. For example, De'Quan researched energy usage and how The Heritage Foundation's vision specifically related to energy policy.
"The best part of this experience has been all of the people I've gotten to work with," said De'Quan. "Everyone is so nice and easy to talk to. I'm not ready for it to be over yet." Added Jamar, "It's given me a lot of practical work experience, and I've learned so much over the past three weeks."
In addition to the professional contacts and work experience these two students gained, they heard from several speakers. Their favorites were David Azzerad on the Founding Fathers' reasoning behind the drafting of the Constitution and Lee Edwards on conservative thought. "I liked Lee Edwards because he was non-partisan. He explained what we needed to do as a nation to solve problems throughout the world, but didn't focus on labels like 'Democrat' or 'Republican,'" said Jamar.
De'Quan and Jamar are not the first high-school students to work at The Heritage Foundation. In fact, Heritage has been partnering with the Cesar Chavez Public Charter School for Public Policy for the past seven years. Many times, these students have never had a taste of conservative policy before their fellowships at Heritage. Through this partnership with Chavez, The Heritage Foundation has given and will continue to give students like De'Quan and Jamar opportunities to learn about conservative ideals and to instill these values for a lifetime.
Sami Lyew is currently a member of the Young Leaders Program at The Heritage Foundation. For more information on interning at Heritage, please click here.
Source material can be found at this site.