August 19, 2013 16:32
by Pesach Benson
Israel's lobbying Washington and Europe to support the Egyptian government. The Jerusalem Post and NY Times explains the effort, as well as Israel's conundrum in a situation where no matter what you do, you have to hold your nose. The latter explains: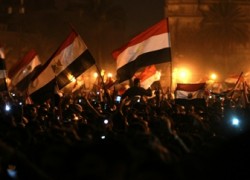 With the European Union planning an urgent review of its relations with Egypt in a meeting Monday, the message, in part, is that concerns about democracy and human rights should take a back seat to stability and security because of Egypt's size and strategic importance. . . .
Most Israeli experts on Egypt share the government's support for the Sisi government and view Mr. Morsi's Islamist Muslim Brotherhood movement as a dangerous threat. But several said Israel's diplomatic push was risky because it could promote a backlash in Egypt and across the Arab world and hurt Israel's credibility as a democracy.
Two years ago, US neocons split with Israel over how to approach the nascent Egyptian uprising. It's essentially the same debate, except everyone's a little older, and hopefully a little wiser.
By the way, there was some interesting journo chatter on Twitter about Herb Keinon and Jodi Rudoren's source. Whatever the case, the Wall St. Journal reports that Egypt and the West appear to be on a collision course.
Sinai jihadis killed 25 Egyptian policemen execution-style after ambushing them near Rafah. Meanwhile, 36 Salafis were killed during a mass jailbreak attempt. More on that at CNN.
The Rot of Return: Why does the Christian Science Monitor plug maximalist Palestinian demands that are rotten to the core?
Source material can be found at this site.