Source: FOX NEWS INSIDER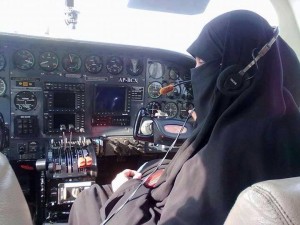 U.S. officials are concerned about a new attack to mark the 13th anniversary of the 9/11 attacks after nearly a dozen commercial jetliners were seized at a Libyan airport, the Washington Free Beacon reported Wednesday. Militants reportedly took control of the planes from Tripoli's main airport.
Intelligence agencies are said to be concerned about the prospect of the airliners being used in suicide attacks across North Africa.
Here's more from the report by the Washington Free Beacon:
The officials said U.S. intelligence agencies have not confirmed the aircraft theft following the takeover of Tripoli International Airport in late August, and are attempting to locate all aircraft owned by two Libyan state-owned airline companies, as security in the country continued to deteriorate amid fighting between Islamists and anti-Islamist militias.

Video surfaced on Sunday showing armed fighters from the Islamist militia group Libyan Dawn partying inside a captured U.S. diplomatic compound in Tripoli. The footage showed one fighter diving into a pool from a second-story balcony at the facility.

Tripoli airport and at least seven aircraft were reported damaged during fighting that began in July. Photos of the airport in the aftermath showed a number of damaged aircraft. The airport has been closed since mid-July.

The state-owned Libyan Airlines fleet until this summer included 14 passenger and cargo jetliners, including seven Airbus 320s, one Airbus 330, two French ATR-42 turboprop aircraft, and four Bombardier CJR-900s. Libyan state-owned Afriqiyah Airways fleet is made up of 13 aircraft, including three Airbus 319s, seven Airbus 320s, two Airbus 330s, and one Airbus 340.

The aircraft were reportedly taken in late August following the takeover of Tripoli International Airport, located about 20 miles south of the capital, by Libyan Dawn.

Al Jazeera television reported in late August that western intelligence reports had warned of terror threats to the region from 11 stolen commercial jets.

In response, Tunisia stopped flights from other Libyan airports at Tripoli, Sirte, and Misrata over concerns that jets from those airports could be on suicide missions.

Egypt's government also halted flights to and from Libya.
Dr. Sebastian Gorka of the Marine Corps University analyzed the threat this morning on Fox and Friends. He said the top concern would be a 9/11-style suicide attack, but also raised the possibility of terrorists using an aircraft to reach an area that would otherwise be inaccessible.
"Terrorism is about using your imagination and these are very, very powerful assets for jihadi fighters," he said.
Gorka pointed out that terrorist groups are successfully recruiting Westerners to join them, raising the concern that they could find some that have flying experience.
Air Force Lt. Gen. Tom McInerney (Ret.)? also joined Fox and Friends this morning to react to this potential threat to America.
"I am getting flashing red lights about to go steady red," McInerney said, adding several key indications that it's very dangerous right now: King Abdullah's warning that ISIS has a global reach, the recent beheadings of American journalists, David Cameron's upgrade of the U.K. terror warning level to severe, comments from senior U.S. military officials that ISIS is an imminent threat and now the hijacking of these 11 airliners in Libya.
"This is a very, very dangerous warning that we're getting, and America should upgrade our alert status to DEFCON 1," McInerney said. "We've never done it before, but beware, America, they are coming after us."