The Dutch conservative political party has demanded Netherlands be cleared of mosques, amid an ongoing row over the integration of Muslim and Turkish minorities in the country.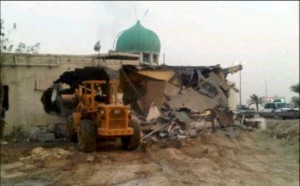 Machiel de Graaf, a member of Dutch anti-immigration and anti-Islam Party for Freedom (PVV), asked all mosques in the country to be shut down while speaking during a debate on integration in the House of Representatives.
Emphasizing that a Netherlands without mosques would be better, the parliamentarian said "We want to clean Netherlands of Islam."
In addition to not being integrated into Dutch society and refuse to be assimilated, Muslims living in the country threaten Dutch identity and culture by giving more birth, according to de Graaf.
De Graaf's remarks drew harsh criticism from members of social democratic parties attending the debate.
While Labor Party (PvdA) deputy Roos Vermeij urged the right-winger to retract his words, Democrats 66 (D66) deputy Sten van Weijenberg stressed his statements were dangerous.
De Graaf's party, which is led by right-wing politician Geert Wilders, has been a vocal critic of Muslims and immigrants living in the country, but his words mark the first time that the request for the complete closure of mosques has been expressed.
For more click LINK