11- and 14-year-old terrorists seen pouncing on security guard, stabbing him repeatedly – before being shot.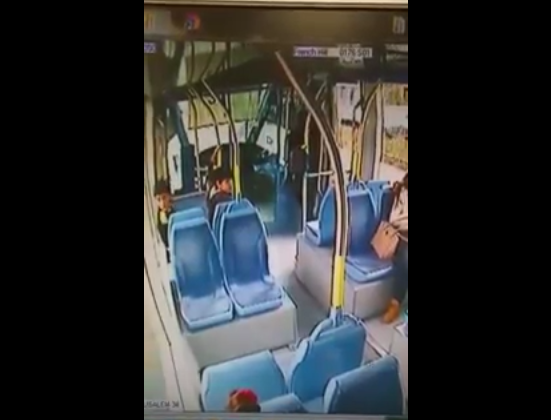 Footage has emerged showing the moment two young Muslim terrorists – one of them aged just 11 – carried out a stabbing attack aboard a bus in Jerusalem's Pisgat Ze'ev neighborhood Monday.
A security guard was moderately wounded in the attack, but succeeded in shooting and injuring one of the attackers, while the second was detained at the scene.
The attack was one of three stabbings or attempted stabbings in the capital Tuesday, ending a period of quiet in Jerusalem which lasted for several days.
Shortly after the Pisgat Ze'ev attack a Muslim terrorist was shot near the Old City's Damascus Gate as he attempted to stab Border Police officers there.
A similar incident occurred at a checkpoint near Abu Dis, also resulting in the wounding of the terrorist, with no Israeli casualties.
A wave of daily attacks by Arab terrorists – mostly stabbings but also car-rammings, shootings and other attacks – have claimed the lives of 12 Israelis and left scores more wounded, dozens of them seriously.
Photo via wikipedia