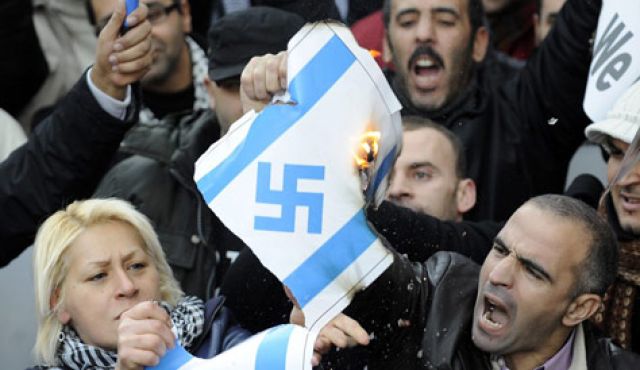 A student at the University of Oregon has been arrested and charged for intimidation for allegedly using anti-Semitic slurs against a Jewish student at an Alpha Epsilon Pi (AEPi) Jewish fraternity house on campus, JNS reported on Wednesday.
According Eugene, Oregon, police, the victim noticed the suspect, later identified as Damien Leon Ramirez, 23, in the bed of his pickup truck outside of the Jewish fraternity house.
When the victim asked the suspect to get out of the truck, he reportedly kicked the truck and shouted anti-Semitic slurs. He also reportedly made a comment about getting a firearm, according to JNS.
The vice president of student life at the University of Oregon, Robin Holmes, issued a statement condemning the incident and praising police for their actions.
"The University of Oregon community is deeply disturbed by the crimes alleged to have been committed against Alpha Epsilon Pi. We do not tolerate hate crimes or threats founded in bias against any individuals or groups," Holmes said, adding, "We are grateful to the Eugene Police Department for their swift action related to the October 30 incident."
The incident comes amid a rise in anti-Semitic incidents in the United States in recent years, with a 21% increase overall in 2014, according to a damning Anti-Defamation League (ADL) report released in March.
In late March, two Jewish teenagers were attacked with paintballs in Brooklyn as they were coming home from synagogue with their grandfather. Several weeks earlier, the car of a rabbi in the city of Dallas was vandalized with a swastika.
Earlier in the year, some 30 homes were spray-painted with swastikas and anti-Semitic expressions in Madison, Wisconsin.
And, in August, two Jewish congregations in San Antonio, Texas, were spray painted with anti-Semitic graffiti.
The Oregon incident, noted JNS, is the latest case of anti-Semitism at an AEPi fraternity house this year. In Feburary, two large swastikas were found spray-painted on the AEPi house at University of California, Davis.
Source material can be found at this site.