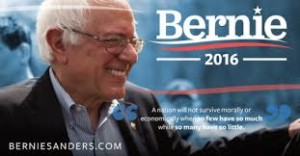 The Democratic party is in chaos after email leaks exposed a massive collusion and corruption between the DNC and Hillary Clinton. The hacked emails, published by Wikileaks, pissed off Sanders supporters, who long accused the party of favoring Clinton.
Bernie supporters are chanting "Hell No, DNC, we won't vote for Hillary" and "This is what democracy looks like," the marchers headed from City Hall down Broad Street, the main north-south artery that leads from the city center to the convention site about 4 miles away.
Sanders has demanded the resignation of the DNC leader Wasserman Schultz's, and Sanders said Sunday night she made the right decision for the party's future by resigning. Things are so bad for Wasserman she was repeatedly interrupted and booed off the stage Monday by Democratic supporters, as she sought to speak to Florida's convention delegation.
Sanders supporters are demanding Hillary drop out due to the massive corruption.
Despite CNN's claim to the contrary, Bernie voters at the DNC absolutely hate Hillary Clinton and will not vote for her in November, which could easily foreshadow a Trump presidency. Trump has received a large bump in the polls after the emails were leaked, Clinton's popularity has been plummeting since.
Things are getting really bad for Hillary, Nate Silver projected on Monday for his data journalism outlet FiveThirtyEight gave the Republican nominee Trump a 57.5% chance of winning the presidency over Hillary Clinton.
Trump campaign manager Paul Manafort said the Clinton camp was trying to distract from its party discord ahead of the convention and she was blaming Russian hackers for exposing her corruption.
"What's in those emails show that it was a clearly rigged system, that Bernie Sanders … never had a chance."
What's disturbing is what Hillary did in order to gain the nomination.