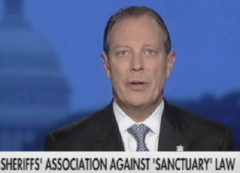 "Someone is about to be harmed" because California lawmakers have put the values of "thugs, rapists, murderers and serial criminals" ahead of citizens, the National Sheriffs Association (NSA) warns.
As CNSNews.com reported on Monday, the 20,000-member sheriffs' association has condemned the state's new "sanctuary state" law (The California Values Act) for being both "dangerous" and "reckless." Appearing on the Fox News Channel Wednesday, NSA Executive Director Jonathan Thompson warned that ironically-named Values Act actually prohibits law enforcement professionals from fighting crime:
"This is reckless. The irony of all this is they just outlawed crime fighting in California.

"And, they did it with something called the 'Values Act.' And, that's what's really troubling to most of us – because the values that the legislature and the governor are honoring are those of thugs, rapists, murderers and serial criminals.

"And, this is what's really dangerous."
Thompson blamed "Obama holdovers" in the Department of Homeland Security (DHS) for thwarting President Donald Trump's efforts to protect Americans:
"It's a slippery slope, and that's the problem. And, we have to do something. We have to have Congress do something. And, you know, DHS here in Washington has been part of the 'swamp' problem. Obama holdovers are dragging their feet and they will not move this.

"The president has spoken to us about it. He's eager to get this done. Thank God, the Justice Department is moving with all speed. But, we still need solutions. And, we've offered solutions – twice we've offered solutions to DHS, but, here we sit."
Californians will continue to be hurt by illegal alien criminals because Governor Jerry Brown (D-Calif.) is more concerned with politics than with the safety of his citizens, Thompson warned:
"In California, someone is about to be harmed – and, it's preventable; that's the crazy part of this whole thing."

"This is nothing but a political stunt; he's playing to a political audience for something other than his citizens."
Source material can be found at this site.