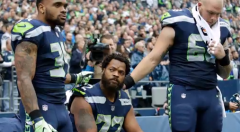 NFL players' National Anthem protests and domestic abuse scandals, and injuries from concussions, appear to explain the drop in U.S. football viewership popularity, Gallup reported Thursday.
In its latest survey of U.S. adults, Gallup finds that the percent of Americans calling football their favorite sport to watch has fallen to 37%, down from its last reading of 39% in 2013.
Football's viewer popularity is also down from its peak of 43% of Americans in 2006 and 2007 who cited football as their favorite viewer sport.
While football has been the top viewer sport since 1972, it has recently suffered at the hands of the National Football League (NFL) – while the popularity of college football has held steady, Gallup reports:
"With the national-anthem controversy in full swing this past October, a Gallup poll indicated the NFL was taking a hit. Fifty-seven percent of Americans said they were fans of professional football, down 10 percentage points from the previous time the question was asked, in December 2012.

"Support for most other sports, including college football, had not changed meaningfully during the same five-year span."
Source material can be found at this site.