"Obama had supported the Muslim Brotherhood in Egypt and failed. The Muslim Brotherhood learned from the Egyptian experience that in order to succeed in Turkey they would need massive purges."
Erdogan's purges of hundreds of thousands were necessary for the Muslim Brotherhood to succeed in Turkey where it had failed in Egypt
by Ezequiel Doiny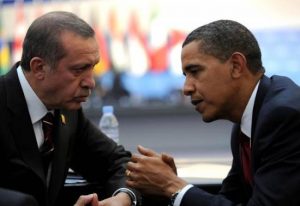 On October 22, 2012  Roger Cohen wrote in the New York Times that, during the Obama administration, the Muslim Brotherhood "…is now de facto object of American support" in Egypt.
please see http://www.nytimes.com/2012/10/23/opinion/roger-cohen-working-with-the-muslim-brotherhood.html
The Muslim Brotherhood attempted to take power in both Egypt and Turkey during Obama's government. Obama had supported the Muslim Brotherhood in Egypt and failed. The Muslim Brotherhood learned from the Egyptian experience that in order to succeed in Turkey they would need massive purges. (The Muslim Brotherhood's Renaissance Project failed in Egypt but is being implemented in Turkey, please read more about the Muslim Brotherhood's Renaissance project below)
The Turkey-Iran alliance: Erdogan's purges were necessary to implement Obama's normalization with Iran
On July 13, 2017 Leela Jacinto wrote in Foreign Policy "A year after the July 15, 2016, coup attempt, Turkey's military — the once mighty pillar of a secular, Muslim-majority state with the second-largest standing force in NATO — has lost its Kemalist oomph. The generals who survived the massive purges following that fateful night are so terrified of President Recep Tayyip Erdogan's avenging wrath that they rolled their troops inside Syria — a prospect they once resisted — without a whimper. The massive purges that began shortly after the failed coup has seen hundreds of thousands of civil servants, judges, security officials, and employees of state-run institutions fired. Their positions are being rapidly filled, often by under- or unqualified replacements, via the Turkish patronage system of kadrolasma — literally, the building of loyalist cadres. The military is no exception. NATO's top commander, Gen. Curtis Scaparrotti, raised the alarm back in December, when he warned of a "degradation" of the alliance's command operations following the firing of "talented, capable" senior Turkish military officials.
The morning after the coup attempt, which left more than 200 dead, as Turks were still processing what happened that long, harrowing night, Erdogan knew exactly who was responsible for what he called a "gift from God." The culprits, he proclaimed before investigations even began, were the Gulenists, the followers of Pennsylvania-based cleric Fethullah Gulen — who once supported Erdogan but fell out with him when they started exposing corruption allegations within the Turkish president's inner circle.
But a year later, Western intelligence officials and top Turkey analysts aren't nearly so sure of Gulen's complicity. Earlier this year, German spy chief Bruno Kahl revealed that Ankara has failed to convince the BND foreign intelligence agency that Gulen was behind the ill-planned and executed coup plot. "Turkey has tried to convince us of that at every level, but so far it has not succeeded," Kahl told the German weekly Der Spiegel in March. When asked if the movement — whose official name is Hizmet, or "service" — was an Islamist extremist or a terrorist movement, Kahl replied: "The Gulen movement is a civilian association for religious and secular education." A leaked report by Intcen, the EU's joint intelligence service, concluded that Erdogan had planned a purge before July 2016 and an array of soldiers, fearing the upcoming mass firings, hastily launched a coup…"
Turkey's Post-Coup Purge and Erdogan's Private Army
Erdogan's purges happened during Obama's government. Is this a coincidence? Obama said Iran "should be a regional power". Given Turkey's alignment with Iran, it seems Erdogan purged Turkey's military to remove internal resistance that opposed Turkey's withdrawal from Syria and allowed the Iranian takeover. Obama had a "special relationship" with Erdogan whom he requested to convey a message to Iran's supreme leader in 2010 as the top item in his foreign policy. On June 7, 2012 David Ignatius wrote in the Washington Post "…Obama and Erdogan continued their courtship despite a sharp deterioration in Turkey's relations with Israel after the Gaza war and despite U.S. worries in early 2010 that Ankara was becoming too friendly with Iran…An example of the Obama-Erdogan channel was their meeting in March at the Asian summit in Seoul. The top item was Obama's request that Erdogan convey a message to Iran's supreme leader about U.S. interest in a nuclear agreement…"
https://www.washingtonpost.com/opinions/david-ignatius-obamas-friend-in-turkey/2012/06/07/gJQAAhqCMV_story.html?utm_term=.45b6a1143db6
On December 29, 2014 the Times of Israel reported "US President Barack Obama said that Iran has the potential to become a "very successful regional power" if Tehran agrees to a comprehensive deal restricting its controversial nuclear program, in a year-end interview with National Public Radio."
https://www.timesofisrael.com/obama-iran-could-be-a-very-successful-regional-power/
In an interview recorded in the video below on Jul 14, 2015 Obama said : "Iran Will Be And Should Be A Regional Power" (see video below)
On May 21, 2013 Joseph Klein wrote in Frontpage Magazine "…Erdogan's idea of democracy is an electoral system that he can manipulate in order to remain in power. His Islamist party has moved inexorably to replace the secular republic established by Mustafa Kemal Ataturk with an Islamic state.  Erdogan's jails have housed more journalists than any other country in the world, including Iran and Russia…"
https://www.frontpagemag.com/fpm/190379/obama-praises-jihad-supporting-turkish-prime-joseph-klein
Erdogan purged hundreds of thousands in Turkey. Is Erdogan the Stalin of our times? Note the similarities between Erdogan's purges and Stalin's. Russiapedia describes "Stalin's purges could otherwise be translated as "Stalin'sTerror". They grew from his paranoia and his desire to be absolute autocrat, and were enforced via the NKVD (Communist Secret police)…his main enemies were his political opponents and their followers. His most ferocious acts of terror – The Great Purges – took place between 1934 and 1939. In 1934 Sergey Kirov, a rival to Stalin, was murdered. Although Stalin is believed to have been behind the assassination, he used it as a pretext to arrest thousands of his opponents, who, in his words, might have been responsible for Kirov's murder. The years after saw Stalin's political opponents put on 'show trials', where they pleaded guilty to impossible charges of treason (e.g. Zinovyev and Kamenev in 1936, Bukharin, Tomsky and Rykov in 1938). In 1937, the Commander-in-Chief of the Red Army and 7 leading generals were shot. In 1938–39, all the admirals and half the Army's officers were executed or imprisoned. In the same period of time thousands of religious leaders were imprisoned while churches were closed…"
https://russiapedia.rt.com/of-russian-origin/stalins-purges/
Ezequiel Doiny is author of "Obama's assault on Jerusalem's Western Wall"