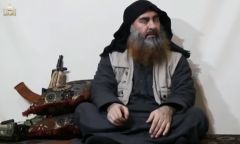 (CNSNews.com) – Almost five years after he was last seen publicly, ISIS leader Abu Bakr al-Baghdadi has made a reappearance in an online video, hailing his fighters for not giving up the remnants of the "caliphate" in Syria without a fight, and urging supporters to carry out attacks in France, Saudi Arabia, and elsewhere.
The clip released Monday by an ISIS propaganda channel, Al-Furqan, shows Baghdadi sitting cross-legged in a nondescript location, and talking to several men whose faces have been blurred. An assault rifle is propped up against the wall next to him, reminiscent of numerous video and still images of Osama bin Laden during the slain al-Qaeda terrorist leader's years as a fugitive.
Baghdadi's beard is fuller, and in parts grayer, than the last known images of him – a filmed sermon delivered in July 2014 from the great mosque in Mosul, Iraq, in which he spoke about the declaration several days earlier of ISIS' "caliphate."
The clip is undated, but according to the Middle East Media Research Institute (MEMRI) Baghdadi refers to events of recent weeks including the downfall amid protests of the long-ruling dictators of Sudan and Algeria and – in an audio segment appended near the end – the Easter Sunday suicide bombings in Sri Lanka.
Baghdadi linked the bombings of churches and hotels in three Sri Lankan cities to the loss of the final foothold of ISIS territory, Baghuz in eastern Syria, which fell in March.
(He did not, however, make any reference to the deadly mosque shootings in Christchurch, New Zealand. Sri Lankan authorities have said the Easter bombings were apparently in retaliation for that attack, although in an earlier statement claiming responsibility for the bombings, ISIS said nothing about Christchurch.)
Baghdadi said the Sri Lanka attack was but "a fraction of the revenge awaiting the crusaders" and praised Allah that Americans and Europeans were among the dead.
He also referred to dozens of attacks around the world which he said have been carried out by ISIS branches in response to the fall of territory in Syria including Baghuz.
One that he identified was a recent foiled attack in Zulfi, Saudi Arabia. Four heavily-armed terrorists were killed in the April 21 assault on a security office, Saudi state media reported at the time.
Baghdadi called for more attacks in Saudi Arabia, and said that "with Allah's permission" the sacrifices of those killed defending ISIS-held territory in Baghuz would be avenged by "their brothers."
He praised by name some ISIS fighters and officials, included foreigners whose nom de guerres pointed to French, Belgian, Chechen, Australian, and Iraqi origins.
Baghdadi made several references to developments in northern Africa, praising ISIS fighters for attacking a small town in central Libya last October, and calling on Allah to protect Adnan al-Sahrawi, the U.S.-designated leader of the Islamic State in the Greater Sahara, the ISIS affiliate which claimed responsibility for the deaths of four U.S. soldiers in Niger in October 2017.
He also welcomed a pledge of allegiance from jihadists in Mali and Burkina Faso, and encouraged them "to intensify their attacks against Crusader France and its allies and to avenge their brothers in Iraq and Syria."
(Mali and Burkina Faso are two of the five former French colonies in the Sahel where French forces are deployed to counter insurgents from ISIS and other terrorist groups.)
He turned to the recent upheavals in Sudan and Algeria, where Omar al-Bashir and Abdelaziz Bouteflika have been ousted in recent weeks.
Baghdadi said they had been replaced by rulers who are worse and more oppressive towards Muslims, and that the only way to deal with tyrants was by "waging jihad for the sake of Allah."
Baghdadi, an Iraqi national whose real name is Ibrahim Awwad Ibrahim Ali al-Badri, was last heard from in audio messages posted by ISIS propaganda channels, in August 2018 and September 2017.
In mid-2017, Russia reported that it believed he may have been killed in a Russian air strike targeting a meeting of senior ISIS figures near Raqqa, then the group's stronghold in Syria.
The U.S. is offering a reward of up to $25 million for information that brings him to justice. Al-Qaeda leader Ayman al-Zawahiri is the only other terrorist with such a large U.S. bounty on his head.
Source material can be found at this site.