This one more of so many examples of blatant corruption and ulterior motives. This one is particularly stunning in how candid it is.
This is literally the equivalent of OSHA saying, "Please don't report faulty fall arrest harnesses, because we don't want people to lose faith in fall arrest equipment".
What is coming in from HR departments is that to encourage corporations to force people to get these vaccines, OSHA has refused to follow the law which would require companies to report workers who fall ill from any work conditions. They have suspended reporting adverse effects from vaccines.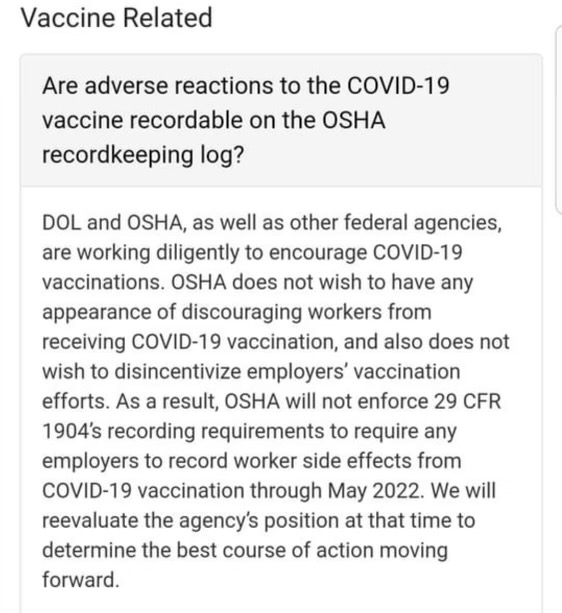 A local business that cuts your grass and takes care of your lawn can no longer operate. Its workers were vaccinated and they became ill. They cannot find people willing to work and are unable to provide services. Then for OSHA to suspend reporting vaccine injuries PROVES that there are far more injuries than the government is telling people.
This brings us back to the burning question of WHY? Indeed, since this disease is no more lethal than the flu, then why destroy the economy, threaten to fire people, all for a vaccine that CANNOT eradicate COVID for it also resides in animals where it will always mutate and return annually just like the flu. There is another agenda going on here that is deeply hidden.
It also important to know the FDA did not approve the vaccines but extended the Emergency Use of the vaccines. They are also trying very hard to have agencies force employers to compel everyone to vaccinate but at the same time leaving themselves as an escape clause who they can return to claiming they never approved the vaccines beyond emergency use.
This is getting really questionable as to why they are forcing vaccines that clearly do not work and CANNOT work for as long as COVID exists in animals, it will constantly evolve and mutate just like the seasonal flu that sometimes comes from Birds or even Swine. The real question is WHY are we being lied to for what is the real purpose of the vaccines?
STILL AN EXPERIMENTAL shot, (not a 'vaccine' ) …………….>>>>>
THAT NEVER COMPLETED PHASE 3
THAT NEVER DID ANY SAFETY OR EFFICACY STUDY/RESULTS WERE 'LOST'
THAT HAS COLOSSAL NUMBERS OF SERIOUS SIDE EFFECTS
THAT CAUSED MANY THOUSANDS OF DEATHS, SO FAR
THAT HAS NO LIABILITY AT ALL FOR ANY DAMAGE DONE TO YOU
THAT MSM/GOV IS SUPPRESSING DOCTORS AND VIDEOS ABOUT PROBLEMS
THAT DOES NOT PREVENT COVID INFECTION
THAT HAS EFFICACY, OVER TIME, WHICH IS GREATLY REDUCED
& AREAS WHICH ARE HIGHLY JABBED SHOW HIGH OUT BREAKS OF COVID. 
Meanwhile, in London, an investigation has revealed that the Bill & Melinda Gates Foundation are the primary funders of the UK's Medicine & Healthcare products Regulatory Agency just as they are if the FDA in the United States. The SEC has done absolutely NOTHING about insider information since Gates is also a MAJOR shareholder in Pfizer / BioNTech mRNA. There are reliable medical organizations opposing these vaccines despite the approval by two regulatory agencies that are taking money from Gates which only introduces conflicts of interest and potential corruption. The CDC report on deaths shows that NOBODY has died of COVID, it has acted as the flu does and the two groups where the deaths take place are those overweight and with disbeates. So why are they insisting upon vaccinating children?