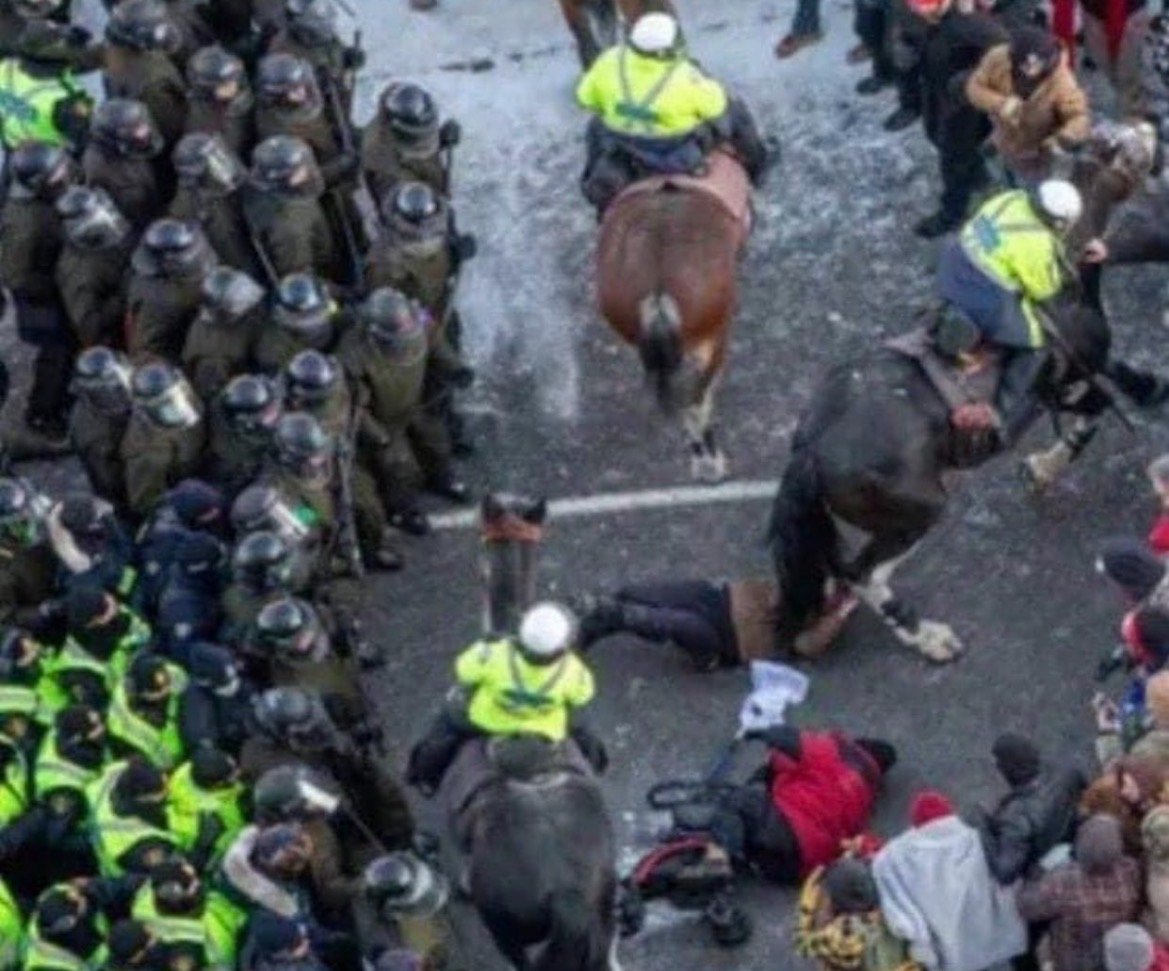 In February, just seven months ago, Justin Trudeau called in police on horseback to quash peaceful protests in downtown Ottawa. Trudeau was upset because the protesters did not agree with his ridiculous COVID policies.
At least one grandmother with a walker was trampled by the horses.
Advertisement – story continues below
Justin Trudeau also locked down bank accounts of working-class Canadians who donated as little as $40 to the Freedom protesters.
They lost their banking privileges in the country because they disagreed with Justin.
TRENDING: "People Don't Want Their Children Sexualized!" – HUNDREDS of Parents and Students Protest Depraved Trans Teacher with Massive Fake Boobs and Nipples at Oakville Trafalgar High School (VIDEO)
Briane is a single mom from Chilliwack working a minimum wage job. She gave $50 to the convoy when it was 100% legal. She hasn't participated in any other way. Her bank account has now been frozen. This is who Justin Trudeau is actually targeting with his Emergencies Act orders.

— Mark Strahl, MP (@markstrahl) February 20, 2022
Advertisement – story continues below
On Saturday Justin Trudeau tweeted out his support for the freedom protesters in Iran.
Tald about completely clueless!
Canada strongly supports people who are expressing themselves and protesting peacefully in Iran. We are calling on the Iranian regime to end its repression of freedom of expression – and to end the ongoing harassment of, and discrimination against, women.

— Justin Trudeau (@JustinTrudeau) September 22, 2022
This is the same guy who tramples seniors on horseback in the snow!
Advertisement – story continues below
The people aren't buying this clown's virtue signaling.
Lol pic.twitter.com/9pkwGata1Q

— Luke Rudkowski (@Lukewearechange) September 24, 2022
The comments are lit!
Advertisement – story continues below
Is this a fucking joke? There's no way you wrote this. Your henchmen literally shot a Journalist and you trampled a Native Grandmother. You can't be seen in public without someone calling you a Communist Traitor. For the love of God stop prostituting Canada to the WEF.

— Liz Churchill ™ ?? (@liz_churchill1_) September 23, 2022
Holy hypocrisy!

You invoked the Emergencies Act on bouncy castles.

Sit this one out Gumby.

You have no credibility

— Cory Morgan (@CoryBMorgan) September 22, 2022
Advertisement – story continues below
You support peaceful protests? Try another one on us.
Here is Tamara Lich being arrested — and then jailed for 50 days — for alleged "Mischief". #TrudeauMustGo pic.twitter.com/IRMJiRzJbf

— Maret Jaks – ?????? (@MaretJaks) September 23, 2022
Tyrant Trudeau needs to sit this one out.
Source material can be found at this site.