Soros-funded DA Alvin Bragg announced in April he was upending the law and charging President Trump with 34 felonies in a "catch and kill" scheme. This is also called a non-disclosure agreement. It occurs when two parties agree to not discuss publicly a certain issue. It often includes a payment to one of the parties.
This is all Alvin Bragg has on Trump. The New York DA is now counting on a jury of local communists to find Trump guilty. This shouldn't be too hard in New York City. For the record, this case has been tossed from every other court that tried to bring charges against Trump.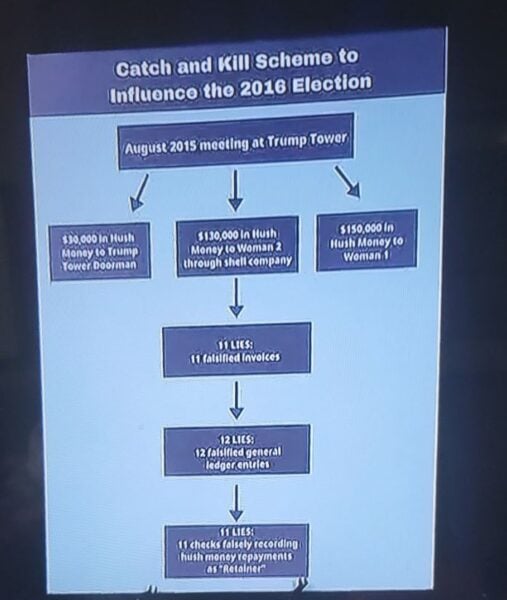 Bragg used a copy and paste approach with President Trump.
Alvin Bragg, sometimes called "Fat Alvin", built his case off of copying and pasting the same charge 34 times around "concealing another crime" in order to make it a felony but didn't include the crime being covered up in the indictment because "the law does not so require" pic.twitter.com/6AOvqRkYv2

— ALX ?? (@alx) April 4, 2023
This statement was rich – considering the skyrocketing crime in New York City. Bragg is making up felonies as he is ignoring felonies.
What a sideshow.
Following the indictment,
Jim Jordan subpoenaed former Manhattan DA prosecutor and Hillary Clinton lawyer, Mark Pomerantz for a deposition.
Mark Pomerantz, a former senior prosecutor on the Manhattan DA's team investigating Trump resigned in protest after District Attorney Alvin Bragg ended the investigation.
He then went on to write a book on the topic. In the book, he claims the investigation "developed evidence convincing us that Donald Trump had committed serious crimes." Pomerantz resigned early last year after Bragg, just weeks into his first term in office, decided not to seek an indictment of Trump at that time.
Bragg failed in his lawsuit and Mark Pomerantz sat before Congress on Friday where he repeatedly pleaded the fifth and refused to answer questions regarding the case.
Breitbart.com reported.
Mark Pomerantz, a former prosecutor in Manhattan District Attorney Alvin Bragg's office, refused to answer any questions relevant to former President Donald Trump's indictment during much of a deposition before Congress on Friday.

Pomerantz warned in an opening statement he would do as much, according to a copy of the opening statement leaked to CNN and other legacy media outlets.

"It gives me no joy to invoke my legal rights, but I am glad that the law allows me not to cooperate with this performance of political theater," Pomerantz said, per his statement.

The deposition ran for roughly five hours.
It should be clear at this point that Democrats have identified no criminal actions by President Trump. All they have is raw hatred of the popular populist president who shook up the country and make America great again.
Source material can be found at this site.