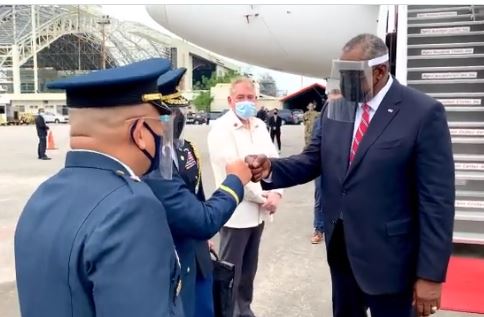 China snubbed Defense Secretary Lloyd Austin's request for at a meeting with Li Shangfu, China's new defense minister.
The US had been trying to secure a meeting with China's defense minister for weeks, but failed.
"Overnight, the PRC informed the U.S. that they have declined our early May invitation for Secretary Austin to meet with PRC Minister of National Defense Li Shangfu in Singapore this week," the Pentagon said in a statement. "The Department believes strongly in the importance of maintaining open lines of military-to-military communication between Washington and Beijing to ensure that competition does not veer into conflict."
The Wall Street Journal reported:
China has rebuffed a U.S. request for a meeting between their defense chiefs on the sidelines of an annual security forum in Singapore this coming weekend, the Pentagon said Monday, showing the limits of a tentative rapprochement between the two rival powers.

The decision by China formally to inform the Pentagon shuts the door for now on a meeting between Defense Secretary Lloyd Austin and Li Shangfu, China's new defense minister, which the U.S. had proposed on the sidelines of the annual Shangri-La Dialogue security forum.

China's dismissal of the proposal also was termed an unusually blunt message, U.S. defense officials said. In the past, such meetings have come together at the last minute, including last year's meeting between Austin and his then-counterpart, which was agreed upon hours beforehand.
This isn't the first time China has snubbed Lloyd Austin.
In 2021 it was reported Defense Secretary Lloyd Austin was unable to talk to Chinese military counterparts despite repeated attempts.
In March 2021 Biden's Secretary of State Antony Blinken got humiliated by China's envoy on American soil.
China envoy Yang Jiechi humiliating Blinken in Alaska
China owns Joe Biden and has zero respect for him.
Source material can be found at this site.