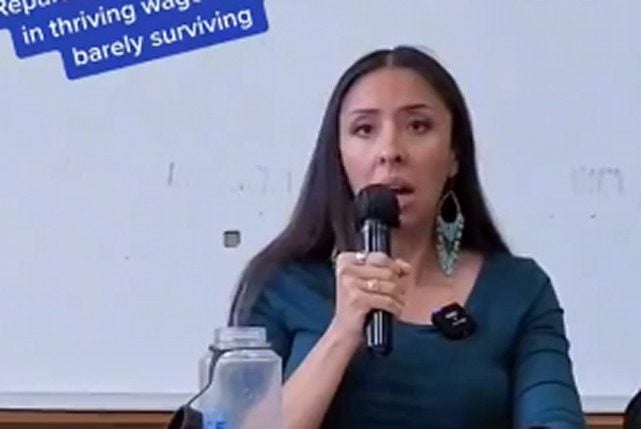 In May, we told you about Candi CdeBaca, a member of the city council in Denver who was running for reelection and wanted to tax white owned businesses more and give the money to minority owned businesses.
It was basically a form of reparations based on the far-left concept of equity.
Well, that idea may have cost her the race, because she lost her reelection bid in a blowout.
Here's what she said at the time:
Denver City Council member Candi CdeBaca, who is running for re-election, says white owned businesses should be taxed extra and redistributed to black owned businesses. pic.twitter.com/s9JhSdAmtj

— Libs of TikTok (@libsoftiktok) May 5, 2023
How did that work out for her?
Denver Westworld reports:
Candi Crushed: District 9's CdeBaca Loses to Darrell Watson by Over 3,500 Votes

The biggest surprise of the Denver runoff elections went down in District 9 on Tuesday, June 6, as incumbent councilwoman Candi CdeBaca got walloped by small-business owner Darrell Watson by more than 3,500 votes.

While numbers were still being tallied, Watson was quick to declare victory during his election watch party at Tracks nightclub in RiNo, telling reporters at around 9 p.m. that his campaign felt confident enough to do so on account of his widening lead.

CdeBaca did not concede that night; people from Watson's camp said late Tuesday that her campaign team had not reached out to them to wave the white flag. It wasn't until the final release of election results today, June 7, that the councilwoman offered a statement accepting defeat.

"While the results in my race are not what I hoped for, the goal in this election was to bring more progressive candidates to the table," CdeBaca said, referring to Shontel Lewis, who had the lead in District 8, and Shannon Hoffman, who made the runoff for District 10.
This is like the political version of get woke, go broke.
How it started How it's going pic.twitter.com/m2VwD02doG

— Chaya Raichik (@ChayaRaichik10) June 9, 2023
Better luck next time?
Source material can be found at this site.