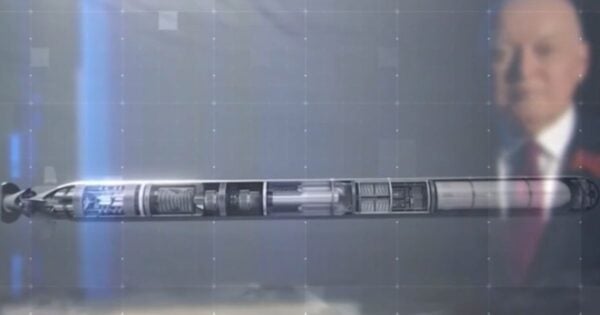 While rampant confusion about the PMC Wagner insurrection that wasn't dominates coverage of the rapidly escalating conflict between Russia and NATO, something much more significant may be occurring beneath the surface.
The K-329 Belgorod is an advanced Oscar II – Class submarine commissioned by Vladimir Putin in 2022 and intended to serve as a launch platform for Poseidon nuclear torpedo drones.
According to a report by USNI News, Poseidon drones are "strategic nuclear weapons designed to circumvent the West's growing ballistic missile defense capability."
After launch, the 80-foot nuclear torpedoes would move undetected across the ocean floor before detonating a 100-megaton, cobalt-enhanced warhead.
The resulting radioactive tidal wave would completely decimate any target coastline,"creating wide areas of radioactive contamination, rendering them unusable for military, economic or other activity for a long time."
On Friday, Russian Deputy Foreign Minister Sergey Ryabkov announced that Russia would not notify Washington of Poseidon nuclear submarine drone tests.
Noted expert on submarines and sub-surface systems, H.I. Sutton, reports the announcement is one of several indicators which suggest a test launch of the feared weapons system may indeed be imminent.
"Russia's largest submarine, Belgorod (K-329), has sailed from Severodvinsk in the Russian Arctic in the past few days," Sutton explains, "Also sailing from Severodvinsk was the support ship Akademik Aleksandrov. This ship is associated with testing the 2?39 Poseidon Intercontinental Nuclear-Powered Nuclear-Armed Autonomous Torpedo. The sailing of the two together, plus other signs observed, may indicate that a Poseidon test launch is imminent."
***UPDATE***
Here- https://t.co/x9fml4Pnln#OSINT indicates that first POSEIDON Intercontinental Nuclear-Powered Nuclear-Armed Autonomous Torpedo launches from #Russian submarine Belgorod may occur in next few days

Not related to Wagner coup, but may provide a show of strength pic.twitter.com/8iVnqn8t0R

— H I Sutton (@CovertShores) June 25, 2023
In a phone conversation this afternoon, Former U.S. Air Force Intelligence Officer Tanya Hildenbrand points out that "OSINT shows final delivery of the 2-megaton torpedos have taken place so testing could take place with little to no warning."
As reported yesterday by Gateway Pundit, Rep. Marjorie Taylor Greene, and other prominent Republicans decry what they say was CIA involvement in yesterday's theater show in Southern Russia.
As was further reported this morning, concerns about "rogue" PMC Wagner CEO Yevgeny Prigozhin and the future of Russian Defense Minister Sergey Shoigu continue to persist — perhaps justifiably.
But given the situation on the ground, one unnamed analyst who works with the U.S. Intelligence Community says the "coup hoax was likely done to move Prigozhin into the shadows and make the paper trail on Wagner much more difficult to follow."
"This all happened two weeks after the Wall Street Journal did their big hit piece on Wagner," the analyst explained, "Most Americans likely hadn't heard of it until then."
Retired Lt. Col. Tanya Hildenbrand explains further:
"Most analysts are talking about how weak Putin looks with the Wagner group turning on him BUT there were no defects from his inner circle.  Prigozhin made a deal and Putin offered to integrate the Wagner group solders into the Russian military."
Another unnamed analyst points out that yesterday's developments moved the PMC Wagner head to a new position in Belarus.
"Western forces were simultaneously drawn further away from the defense of the Kyiv — providing an enhanced opportunity for Russia to attack from the north — under the well-seasoned command of Prigozhin," the analyst explained.
Hildenbrand says the situation becomes more of a challenge if Putin resolves ongoing supply problems which have plagued the Russian military since the onset of the invasion.
Trending: Kim Dotcom: Did Putin and Prigozhin Play the CIA to the Tune of $6 Billion?
While America faces diminishing influence in Taiwan, a new front in the Ukrainian conflict could quickly lead to a globally coordinated assault on U.S. national security interests. Some analysis suggests such a move is already well underway.
Several sources say Chinese military personnel may already be conducting advance operations within the borders of U.S. territory — perhaps in preparation for a large-scale, global insurgency campaign intended to completely dismantle Western power.
More People Catching on why I keep going back to Netherlands…railway from China starts/ends at Rotterdam — biggest harbor in Europe. Just south of Rotterdam is second biggest harbor, Antwerp. Both harbors to be in Tristate City. Major control over Europe. https://t.co/1nj9pV3DHN pic.twitter.com/VLcQQWZaeJ

— Michael Yon Jungle (@Michael_Yon) June 25, 2023
As America grapples with an unprecedented number of operations conducted by near-peer adversaries around the world, the alliance between communist China and Putin's Russia presents an increasingly perilous situation.
Should Russia prove capable of launching a Poseidon nuclear strike on the East Coast of the United States, America could be in a much worse position than anyone should like to consider.
Perhaps the most significant challenge America faces, however, is compromised leadership at the helm.
With the potential for a large-scale assault becoming evermore realistic, it is undoubtedly time to put our own house in order.
Source material can be found at this site.