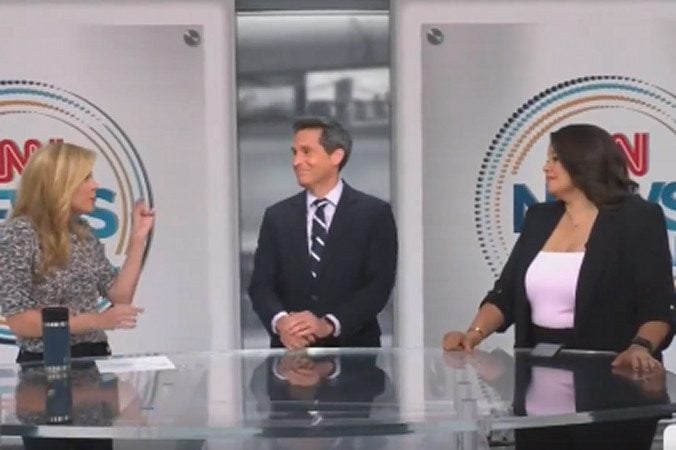 CNN hosts joked about the discovery of cocaine in the White House on Wednesday morning, dismissing it as a crime where no one was hurt and laughing it off.
Everyone knows how differently the far left network would treat this issue if it had happened at the Trump White House.
CNN would be questioning law enforcement officials and asking if anyone would be prosecuted. They would treat it as more than a scandal. It would be a question of national security.
NewsBusters reports:
Speaking Truth to Powder: CNN Laughs About White House Cocaine

CNN News Central's Wednesday morning coverage of the cocaine found at the White House over the weekend was short, but telling of their opinion of the matter. After anchor John Berman discussed selective aspects of the matter with White House correspondent Priscilla Alvarez, anchors Sara Sidner and Kate Bolduan joked about the matter and made light of it, saying that it's not "too soon" for them to poke fun about it.

The segment began with Berman breaking the news of the lab confirmation that the white powdery substance discovered in the White House was, in fact, cocaine. He was quick to note, however, that President Biden was not present at the White House when it had been discovered, seeming to dismiss any relation between Biden and his family and the cocaine.

He then brought on Alvarez, who entered the discussion by questioning on "how it entered the White House to begin with." She emphasized that it had been discovered "in the West Wing, in a common area," thus seeming to imply that it may have been brought in by a guest…

The three anchors ended the segment, which they had conveniently put off until the very end of the show, by joking about this very serious matter. Sidner said that she "would like to know, blow-by-blow, who was responsible for this," making a joke on the cocaine.
See the video below:
CNN jokes about cocaine being found in Joe Biden's West Wing.
"I want to know blow-by-blow who was responsible for this." – Sara Sidner while snickering.
"There is no 'too soon' … It's an illicit drug at the White House. Why can't you have a little bit of fun?" – Kate Bolduan pic.twitter.com/mtR6VEPH6M

— Nicholas Fondacaro (@NickFondacaro) July 5, 2023
See? No big deal. It's all just a big joke.
These are not serious people. They're partisan propagandists.
Source material can be found at this site.