Last week Facebook-Meta launched their new app, a Twitter knock-off, called "Threads." Owner Mark Zuckerberg says its vision is to "create an open and friendly public space for conversation" for 1 billion-plus people.
Within hours of its launch, Twitter threatened to sue Zuckerberg and Meta. Twitter on Thursday issued a cease desist letter to Meta over the new social media app 'Threads.'
Twitter accused Meta of hiring dozens of former Twitter employees who still have access to the social media platform's trade secrets.
The Threads app has issues.
Mark Zuckerberg's Threads app:

The feed is a garbage hose of corporations, celebrities, and random people.

-no way to control your feed
-no chronological feed
-no direct messages
-no keyword search
-no web interface
-no monetization
-no following tab
-no bookmarks
-no hashtags… pic.twitter.com/8Z3pcUemMj

— KanekoaTheGreat (@KanekoaTheGreat) July 9, 2023
This latest move by Zuckerberg did not sit well with Elon Musk.
On Sunday Elon Musk called out Mark Zuckerberg with four words.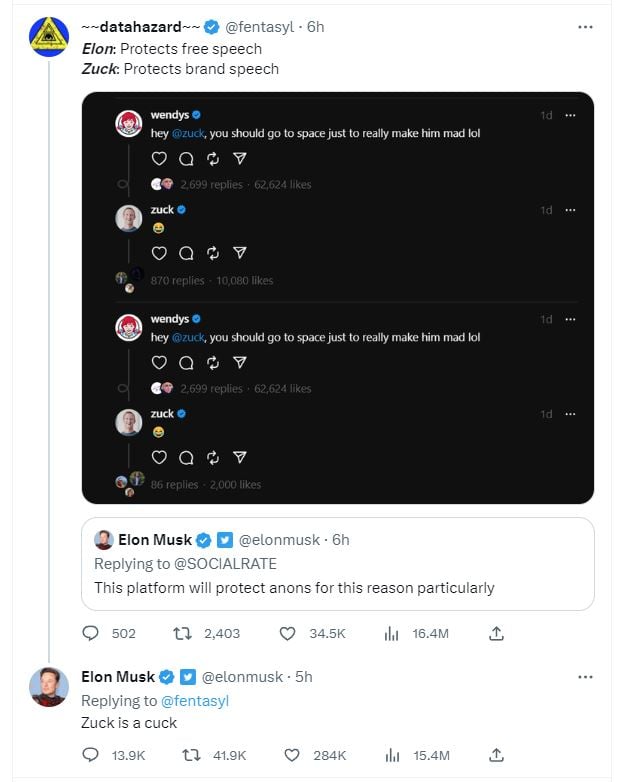 Elon earlier retweeted these comments by Zuckerberg.
Remember this chat between Mark Zuckerberg his friend, during the early days of Facebook? ? pic.twitter.com/sHPwMZmUwq

— DogeDesigner (@cb_doge) July 8, 2023
Source material can be found at this site.