Los Angeles, the second-largest US city, is facing a crisis of funding not seen since the darkest days of the Great Depression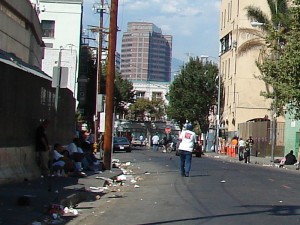 Two and a half years after the official start of the worst economic downturn and fiscal crisis in nearly 80 years, America's economy is supposedly growing again, the stock market is halfway recovered from the lows of 2008 and early 2009, and the unemployment plunge seems to have been halted.
Yet, built-in time lags in how revenues are raised and budgets calculated mean that many states and cities around the country are only now starting to feel the worst of the pain. This year has been, quite simply, abysmal for local and state governments, and next year promises to be even worse. With easy cuts long-ago made, these days basic services are increasingly seen as luxuries, and public sector employees are increasingly vulnerable to wage cuts, benefits rollbacks, and unemployment.
While the federal government has considerable wiggle room to borrow or simply increase the supply of money to help fight its way out of financial collapse, smaller government units in America don't have those options; increasingly cities, counties and states are facing the sorts of austerity measures we've come to associate with third world countries in crisis, or, in recent years, with vulnerable European nations such as Greece or Latvia.
In Arizona, a cash-pinched legislature put the Capitol building up for sale, proposing to lease it back for state use. In the small Colorado town of Colorado Springs, officials shut off half the street lamps and one-third of the traffic lights, told residents who wanted short grass in public parks to bring their own lawnmowers, and auctioned off a police helicopter on eBay. Around the country, libraries have been shuttered, after-school programmes have been curtailed, mental health services have been decimated.
In Los Angeles, the nation's second largest metropolis, the Democratic mayor, Antonio Villaraigosa, addressed a full session of the city council on 9 February to detail just how grim the city's finances had become. Miguel Santana, the city administrative officer (the CAO is the mayor and council's chief financial adviser) had recently informed the mayor's office that LA was facing a $200m shortfall through the end of this financial year and another half billion dollar-plus shortfall in the years to come if it didn't radically, and rapidly, restructure its budget. Santana didn't mince words. His nearly 300-page report (pdf) opened with this stark warning:
"The city is facing a budget crisis unlike any it has ever experienced … The enormity of our current fiscal crisis forces the City to take swift action now and lay out a financial plan for the future."
Wall Street was growing increasingly worried by the city's financial fragility, and the city's ability to raise revenues through bond sales was at risk.
Why the crunch? According to city council president Eric Garcetti's office, for the past four quarters, the city has seen double-digit revenue declines, a scenario not experienced since the darkest days of the Great Depression. Quite simply, the downturn was so steep it had made government-as-normal impossible to maintain in the City of Angels. As a result, says Garcetti, the city will face a crisis of funding for the next several years as well as an increasingly bitter battle of ideas as to the role of government in modern-day America; for conservatives, he warns it will likely be seen as an opportunity to starve the public sector, to "downsize government so much it can never come back."
Los Angeles' budget, currently around $7bn per year, will, all parties agree, shrink for years to come. And, since much of that $7bn is committed to untouchable items – making sure pensions are paid, keeping the LAPD afloat – the hundreds of millions of dollars in cuts will fall overwhelmingly on employees and on discretionary services. And these are services that disproportionately are used by lower income residents – the very people who have already been hit the hardest by the broader economic meltdown.
The city has already negotiated with public sector unions to ease 2,400 employees (out of a city workforce of about 40,000) into early retirement, is working to immediately reduce the city's payrolls by another one thousand, and is exploring how to make more cuts down the road that could lead to a couple of thousand additional job losses – or, if the mayor and Garcetti's vision of "shared sacrifice" is implemented, to fewer job cuts but across-the-board pay reductions instead. "For me, government matters," says Garcetti. "Workers matter. Services matter." Inevitably, however, the crisis will in some ways shrink the role of city government.
At the same time as the city is negotiating concessions from unions, it is also exploring "private-public partnerships" that would hand the city's zoo, convention centre, parking garages and even parking meters to private operators. And it has already eliminated two city departments – environmental affairs and human services – with more likely to follow, hoping to seamlessly amalgamate their functions into other departments.
Yet in reality, there is very little that is seamless about these budget readjustments. The job losses are adding to LA's already great economic pain – the city has a more than 11% unemployment rate; even with progressives occupying key positions in the city's political leadership, the evisceration of core public services will, over the years to come, impact the quality of life of most Angelenos; and the privatisation of venues such as the zoo and the convention centre will harm the city's long-term ability to raise sufficient revenue to meet its growing needs.
The broader economy may be starting to show some signs of healing, but for those at the bottom of the economy, for those most reliant on government services in Los Angeles and the countless other cities teetering over financial abysses, 2010 looks more like a bona fide Depression year than one made beautiful by the myriad green shoots of recovery.