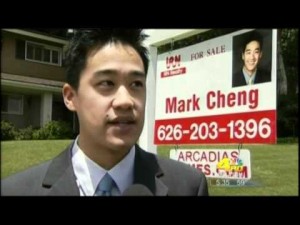 Only in the USA could one view the purchase of property by foreigners a sign of recovery. Chinese citizens buing 10% of every home sold in California, and 1/3 luxury homes in California.
As China's economy rises, a group of China's new rich with abundant cash funds appeared in Southern California, mostly businessmen, taking advantage of the housing market downturn bought a lot of foreclosures, short sales or not yet listed houses with cash.
Real Estate agent Zhou Min said once a customer produced the proof of bank account, took a look, it had 6 million dollars, everyone was shocked. And the wealthier mainland Chinese buyers like to buy in white areas, Newport Beach and Newport Coast are their first choices.
As for wealthy mainland Chinese businessmen moving into Pacific Coast white communities, real estate broker Liu Zhaojun said mainland China has foreign exchange controls, rich businessmen do not want to be too ostentatious and be noticed.
In Los Angeles, New York and even Miami, buyers mostly from China—and some are from Hong Kong, Singapore and Korea—are radically altering the landscape. Last month, a Chinese couple paid $34.5 million for a Versailles-style mansion on Sunset Boulevard in Beverly Hills, Calif. A year earlier, a Hong Kong businessman paid around $28 million for a nearby estate. Over the last six months in New York, several full-floor apartments in a new Manhattan high-rise called One57, each with a price tag of roughly $50 million, have gone into contract with Chinese buyers.
[youtube kVSJOPG745M nolink]