The New York Police Department is testing a new device that can detect firearms concealed beneath layers of clothing.
Dubbed "T-Ray," the machine detects terahertz radiation, a high-frequency electromagnetic natural energy that is emitted by people. It also detects the presence of hidden metal from a distance, The Wall Street Journal reported.
"If something is obstructing the flow of that radiation, for example a weapon, the device will highlight that object," said Commissioner Raymond Kelly, explaining the device Wednesday.
The boxy machine can be hidden in a vehicle, allowing officers to discreetly scan their target and may provide an alternative to the NYPD's reliance on the controversial tactic of stop-and-frisk, where officers routinely search large numbers of men in high-crime areas, AFP reported.
"We still have a number of trials to run before we can determine how best to deploy this technology. But we're very pleased with the progress we've made over the past year," said Kelly.
Chief spokesman for the NYPD, Paul Browne, said the police aimed to get the T-Ray technology in a device small enough to carry on an officer's gun belt, but provided no timetable for when any version of the device would be deployed.
The program is being paid for by the U.S. Department of Defense, said Browne, who described the machine as a "multimillion" dollar device, although he wouldn't specify its cost.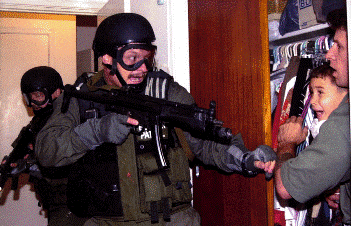 Critics said the T-Ray search raises privacy concerns and fears over so-called false positives, whereby an object on a person's body could be misread to be a weapon.
"Any technology that allows police to peer into a person's body or possessions raises a lot of questions…," Donna Lieberman,  executive director of the New York Civil Liberties Union, said in an email to The Wall Street Journal. "But to the extent that this technology reduces the abuse of stop-and-frisk that harms hundreds of thousands of New Yorkers every year, we're intrigued by the possibilities."
Kelly said the department was working with its lawyers to assess how to best utilize and deploy the devise in light of due-process protections under the U.S. Constitution, while also guarding against possible litigation that could arise from its use.
Source material can be found at this site.