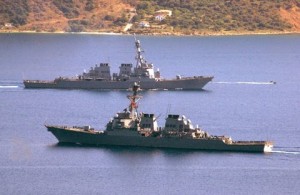 By John Hudson
A formerly obscure naval exercise involving China and the United States is coming under increased scrutiny ahead of President Barack Obama's meeting with Chinese President Xi Jinping on Friday.
For the first time, the Obama administration invited China's People's Liberation Army to participate in the 2014 Rim of the Pacific (RIMPAC) exercise, an annual maritime exercise that enlists a variety of nations typically allied with the United States. But in wake of concerted Chinese attempts to obtain U.S. military secrets, not everyone is thrilled about the two naval powers floating side-by-side.
"The administration made a mistake by letting China play a role in the Rim of the Pacific exercises," Rep. Steve Chabot (R-OH), chairman of the House Subcommittee on the Middle East and South Asia, tells The Cable. "They will likely utilize these exercises to their advantage: stealing our military secrets and better understanding our military strategy."
Michael Auslin, a resident scholar of Asian security studies at the conservative American Enterprise Institute, agrees.
"They will get a better understanding of our tactics and procedures as they see how we can coordinate with our allies and friends," he told The Cable. "I would much rather see them mystified about how well or closely we work with the Japanese or Australians. If they come into RIMPAC and see the improved communications between the fleets, that is valuable from a military perspective."
Deputy Defense Secretary Ashton Carter first acknowledged that China had accepted the offer in March, though the invite was originally extended by then-Defense Secretary Leon Panetta last year. At the time, Carter said, "We seek to strengthen and grow our military-to-military relationship with China, which matches and follows our growing political and economic relationship."
But now, with heightened fears that China is chipping away at America's qualitative military edge in wake of a contentious Pentagon report citing Chinese cyber intrusions of the nation's most advanced weapons systems, White House critics are sounding the alarm.
"If I'm the Chinese, I'm happy with this invitation," said Auslin. "It reaffirms my whole belief that I can get away with slowly ratcheting up the pressure against the U.S. and its allies without any consequences."
A White House spokesperson referred The Cable to the Pentagon, which said the exercise could be completed without exposing military secrets. "The U.S. Navy has operational security safeguards to protect U.S. technology and tactics, techniques and procedures from disclosure," said Pentagon spokeswoman Catherine Wilkinson. "U.S.-China military-to-military engagements can include a range of activities in areas of mutual interest including Maritime Security, Military Medicine and Humanitarian Assistance/Disaster Relief (HA/DR) issues. The exercise scenario hasn't been developed yet, so it's too early to say what each nation's participation in the exercise will ultimately look like."
Rory Medcalf, an Australia-based international strategy expert at the Brookings Institution said the potential for intelligence gathering was there, but downplayed the risk of such an exercise.
"Of course there's an element of information-gathering in international naval drills, but this works both ways," he told The Cable. "I'm sure it's not beyond the wit of the US Navy to choreograph exercises where China's role does not involve access to sensitive information about US or allied capabilities."
"Chinese participation in RIMPAC will presumably focus on seamanship and non-warlike activities, rather than high-end combat drills or live-fire exercises," he continued. "The United States and allies have long called on China to make use of standard modes of operational communication to prevent incidents leading to conflict. It would be absurd to lock China out of exercises aimed at advancing precisely that goal."
But Chabot sees the invitation as a strategic and diplomatic misstep. "We don't need to be provocative with China, but I think we keep rewarding really bad behavior," he said. "China's blatant stealing of U.S. technologies, their hundreds of cyber attacks on U.S. industries and government agencies. It's all pretty much ignored."