Police in Canada have arrested two residents of the province of British Columbia in an alleged Al-Qaeda-inspired terror plot that involved placing pressure cooker bombs at the B.C. legislature in Victoria during Canada Day celebrations.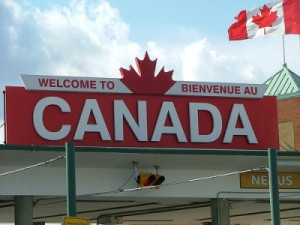 The two made a brief court appearance in Surrey on Tuesday, reported the CBC.
Amanda Marie Korody, 30, and John Stewart Nuttall, 39, both of Surrey, B.C., have each been charged with conspiracy to commit an indictable offence, knowingly facilitating a terrorist activity and possession of an explosive substance, according to the CBC.
They were arrested Monday and are accused of building explosive devices with the "purpose of causing death or serious bodily injuries," which were placed outside the B.C. legislature in Victoria on Canada Day.
RCMP say the contents of the improvised explosive devices included nuts, bolts, nails, washers and other materials intended to kill or maim people.
Police said Korody and Nuttall, both Canadian-born citizens, were "inspired by Al-Qaeda ideology" but added the incident has no international links.
At a press conference on Tuesday, police said the pair were self-radicalized and had discussed a wide variety of targets and techniques.
Police said the threat was real but at no time was the public at risk, as the threat was detected early and disrupted. Police added they were in tight control as the devices were constructed.
At a news conference in front of the legislature following the RCMP announcement, B.C. Premier Christy Clark said she was informed of the "profoundly shocking" incident on Monday.
She thanked the police investigators involved, saying terrorists "will not succeed in tearing down the values that make this country strong."
Federal Public Safety Minister Vic Toews said the arrests were the result of close work between police and security agencies.
The investigation, dubbed Project Souvenir, was launched in February 2013 and co-ordinated by the RCMP-led Integrated National Security Enforcement Teams, which include investigators from the Canadian Security Intelligence Service and Canada Border Services Agency, reported the CBC.
"The success of this operation was due to the close collaboration of our security and law enforcement agencies, including CSIS, said Toews in Ottawa on Tuesday afternoon.
"I would like to applaud the RCMP-led Integrated National Security Enforcement Teams — known as INSET — and all of the partners for their outstanding work on this investigation," he added.
In April, Canadian authorities arrested two men suspected of plotting a massive, Al-Qaeda inspired terrorist attack on a passenger train from Toronto to New York.
Subsequent reports indicated that Canada had previously tried to deport one of the suspects, but did not do so after he claimed to be a "stateless Palestinian".
Source material can be found at this site.