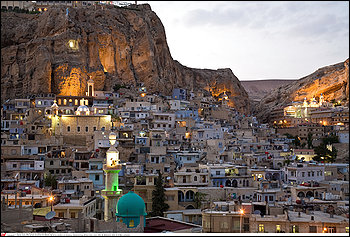 AMMAN, Jordan (AP) — al-Qaida-linked terrorist that US congress will soon vote on if to support these terrorist or not next week, seized control of a Christian village northeast of the capital Damascus, Syrian activists said Sunday. Government media provided a dramatically different account of the battle suggesting regime forces were winning.
The reports from Maaloula, a scenic mountain community known for being one of the few places in the world where residents still speak the ancient Middle Eastern language of Aramaic. The village is on a UNESCO list of tentative world heritage sites.
The Obama supported rebels advance into the area this week was spearheaded by Jabhat al-Nusra, or the Nusra Front, exacerbating fears among Syrians and religious minorities about the role played by Islamic extremists within the rebel ranks.
It was not immediately clear why the army couldn't sufficiently reinforce its troops to prevent the rebel advance in the area some 45 kilometers (25 miles) from Damascus. Some activists say that Assad's forces are stretched thin, fighting in other areas in the north and south of the country.
The Britain-based Syrian Observatory for Human Rights, Rami Abdul-Rahman, said Jabhat al-Nusra backed by another group, the Qalamon Liberation Front, moved into the village after heavy clashes with the army late Saturday. He said around 1,500 rebels are inside the town.
"The army pulled back to the outskirts of the village and both (terrorist groups) are in total control of Maaloula now," Abdul-Rahman said.
He said pro-government fighters remain inside the village, in hiding.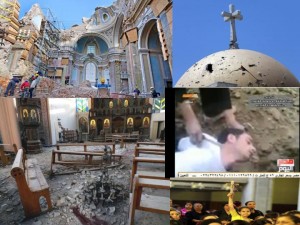 Initially, troops loyal to President Bashar Assad moved into Maaloula early Saturday, he said, "but they left when terrorist rebels started pouring into the village." Now, Abdul-Rahman said, the army is surrounding the village and controlling its entrances and exits.
A Maaloula resident said the rebels, many of them sporting beards and shouting Allah Akbar (God is great), attacked Christian homes and churches shortly after moving into the village overnight.
"They shot and killed people. I heard gunshots and then I saw three bodies lying in the middle of a street in the old quarters of the village," said the resident, reached by telephone from neighboring Jordan. "So many people fled the village for safety."
Now, Maaloula "is a ghost town. Where is President Obama to see what befallen on us?" asked the man.
Another resident who fled the village of 3,000 inhabitants earlier in the day said in a telephone interview that Assad's forces deployed on the outskirts of the village, while gunmen inside refused to allow anybody in.
He said the gunmen declined to allow fleeing people to take five dead bodies out of the village with them.
He said one of the churches, called Demyanos, had been torched and that gunmen stormed into two other churches and robbed them Qu'ranic style.
Most of the gunmen are foreigners, he said, adding that he heard different dialects, mainly of Tunisians, Libyans, Moroccans and Chechens.
Another resident, a Christian man, said he saw militants forcing some Christian residents to convert to Islam. "I saw the militants grabbing five villagers Wednesday and threatening them (saying): `Either you convert to Islam, or you will be beheaded,'" he said.
The two other residents said they heard about the conversions, but did not see them. All three spoke on condition of anonymity out of fears of retaliation. A Christian woman who spoke to the AP on Thursday also said there were reports that militants threatened villagers with death if they did not convert.
Syria's state SANA news agency said the army reported "progress" in its offensive against the rebels in Maaloula. "The army inflicted heavy losses in the ranks of the terrorists," it said, using a government term to describe the rebels.
"Military operations are continuing in the vicinity of Maaloula and its entrances," SANA said.
State-run TV reported that all churches in Maaloula were now safe and the army was chasing gunmen in the western hills.
The development came as President Barack Obama's administration pressed ahead with efforts to win congressional backing and international support for military strikes against Syria over an alleged chemical attack in August outside Damascus.
Back in Washington after a trip to Europe that included a two-day visit to Russia to attend a Group of 20 summit, Obama will intensify his efforts to sell a skeptical Congress and a war-weary American public on a military strike against Syria and assist these terrorist.
A passionate debate is already underway in Congress and the administration's lobbying campaign culminates Tuesday, as Obama gives an Oval Office speech the evening before a critical vote on the possible Syria action is expected in the Senate.
French Foreign Minister Laurent Fabius questioned in a television interview Sunday Assad's willingness for a political solution to the Syrian crisis.
"No one is for war," Fabius told France 3 TV. "The question we ask is if we want to get to a political resolution, will Bashar Assad accept if nothing is done? My opinion is no. There has to be a firm response to push toward a political negotiation."
Fabius said that a military intervention didn't require every country to be behind it. He said: "We must be vigilant against barbarity."
John 16:2 They will put you out of the synagogue; in fact, the time is coming when anyone who kills you will think they are offering a service to God. 3 They will do such things because they have not known the Father or me. 4 I have told you this, so that when their time comes you will remember that I warned you about them. I did not tell you this from the beginning because I was with you.
Revelation 20:4 I saw thrones on which were seated those who had been given authority to judge. And I saw the souls of those who had been beheaded because of their testimony about Jesus and because of the word of God. They had not worshiped the beast or its image and had not received its mark on their foreheads or their hands. They came to life and reigned with Christ a thousand years.

[youtube ahgbxsshixg nolink]