In a milestone case in the UK, a judge is set to rule whether Muslim women should be allowed to stand trial while wearing a full-face veil.
Judge Peter Murphy is set to decide whether women who wear the garment known as the niqab should have to remove it to allow a judge and jury to see them in court.
The case arose when a female Muslim defendant successfully argued that it would breach her human rights if she were forced to removed her veil. While some human rights lawyers back this claim, others have argued that it is necessary for a jury to see a defendant's face when they gave evidence.
One veteran human rights barrister, John Cooper QC, expressed just such an opinion to the British Newspaper the Sunday Times.
"A jury needs to not only listen to the evidence but see how it is delivered," he told the paper. Adding that if women were permitted to give evidence fully veiled it would "set an unfortunate, dangerous precedent."
The debate has entangled leading politicians in the UK including Deputy Prime Minister Nick Clegg, who has argued for a partial ban on the niqab in some public places such as airports and classrooms.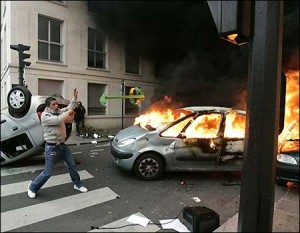 "My own view, very strongly held, is that we shouldn't end up like other countries issuing edicts or laws from parliament telling people what they should or should not wear." Clegg said.
However, "I think there are exceptions to that as far as the full veil is concerned – security at airports, for instance. It is perfectly reasonable for us to say the full veil is clearly not appropriate there." He added: "In the classroom, there is an issue, of course, about teachers being able to address their students in a way where they can address them face-to-face."
In neighboring France, at least 20 cars were torched and four people arrested after French police enforced a ban on the face veil.
Source material can be found at this site.