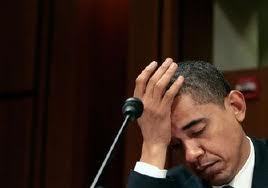 For the first time in nearly 40 years, a majority of Americans believe the United States is less important around the world and that it should mind its own business, a stunning rejection of President Obama's foreign policy just four years after he received the Nobel Prize.
A new Pew Research Center poll found that 53 percent of people believe that the U.S. is playing a less important role as a world leader than a decade ago, the highest figure since 1974.
Worse: 70 percent said that the U.S. is respected less than in the past, almost matching the high reached under former President George W. Bush, whose foreign policy Obama pledged to reverse.
Other key highlights from Pew's release:
— By a 56 percent to 34 percent margin, more disapprove than approve of Obama's handling of foreign policy. The public also disapproves of his handling of Syria, Iran, China and Afghanistan by wide margins.
— For the first time, 52 percent believe the U.S. should "mind its own business internationally."
— Some 51 percent said the U.S. does too much in helping solve world problems.
— Most say the U.S. should engage internationally on economic issues. Fully 77 percent say that growing trade and business ties between the U.S. and other countries is good.
— Just 31 percent of the public say the war in Afghanistan has made the country safer from terrorism.
[youtube tdxhDHcF5Fc nolink]
By Paul Bedard, The Washington Examiner's "Washington Secrets" columnist, can be contacted at [email protected]