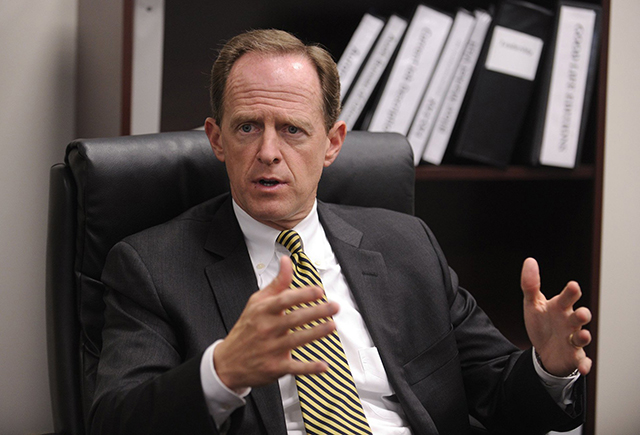 Senator Pat Toomey (R-PA) this morning sent a letter to fellow lawmakers urging them to reject President Obama's nominee for a key Justice Department post because he blocked justice while head of the NAACP Legal Defense Fund by portraying a "cowardly, unrepentant" cop killer as an American hero.
Obama tapped Debo Adegbile, senior counsel of the Senate Judiciary Committee, to direct the Justice Department's Civil Rights Division. The committee was scheduled to debate and vote on his nomination beginning at 10 a.m. today
In his letter to Senate colleagues, Toomey recalls that Adegbile  and the NAACP Legal Defense Fund (LDF) in 2009 joined long-running efforts to free Mumia Abu-Jamal, who was convicted of murder in the grisly 1981 shooting of Daniel Faulkner, a 25-year-old Philadelphia police officer, during a traffic stop.
"Abu-Jamal already had multiple, high-priced lawyers volunteering their time and filing dozens of petitions and appeals over two and a half decades," Toomey wrote, adding:
"Under Mr. Adegbile's oversight, LDF lawyers spread misinformation, promoted division among the American people, and blocked justice for the family of Officer Daniel Faulkner. The lawyers Mr. Adegbile supervised promoted the myth that Abu-Jamal was a heroic, political prisoner who was framed because of his race, instead of the cowardly, unrepentant killer that he is."
Read Toomey's  entire letter here:
Toomey Letter Opposing Adegbile
This story was produced by The Foundry's news team. Nothing here should be construed as necessarily reflecting the views of The Heritage Foundation.