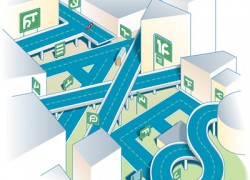 Half the residents of Illinois (50%), Connecticut (49%) and Maryland (47%) would flee their state if they had the chance, a new Gallup Poll show.
Residents of these states are also the most likely to leave, and Gallup attributes three factors:
State taxes
State Government
Quality of Life
"Nevada, Illinois, Maryland, Louisiana, Mississippi, New York, and Connecticut all appear particularly vulnerable to losing population in the coming few years: high percentages of their residents say they would leave if they could, and larger-than-average percentages say they are at least somewhat likely to do so in the coming year. At the other end of the spectrum, Texas, Minnesota, and Maine have little to fear. Residents of these states are among the least likely to want to leave and few are planning to leave in the next 12 months.

"If these states sound familiar to readers of Gallup's previous 50-state poll articles, it's because several of them also appear at the top or bottom of the states for resident satisfaction with state taxes, state government, and overall perceptions of how their state compares to others as a place to live. Texas is in the top 10 on all three, while Illinois, Rhode Island, and Maryland rank in the bottom 10 on all three."
Conversely, just under a quarter of people living in Montana, Hawaii, Maine, Oregon, New Hampshire and Texas would leave, given the opportunity.