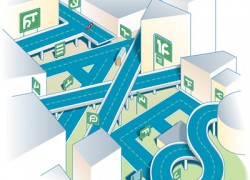 DULUTH, Minn.—All one needs to do to get a clue about the scope of this city's street repair problem is log on to the local government website.
In recent days, people who clicked on the "Duluth Progress" tab to view a list of street-improvement projects ran into a "404" error message on the face of a "Do Not Enter" wrong-way sign.
"Government has to start living within its means," says a critic of Duluth's fees.
It could explain why so many Duluth taxpayers have communicated their own "404" error message to the city over a new street improvement fee that appeared on August utility bills.
The street fund joins water, sewer, storm water, street lights and other utility fees that can total nearly $50 a month, which are charged on top of residents' property taxes.
"Government has to start living within its means, instead of this thinking that we have an unlimited amount of money. We don't," said Jim Booth, a financial planner who's running for county commissioner. "And it's exactly the people the politicians say they're watching out for—the low- and moderate-income people—that they're hurting."
This summer, Duluth Mayor Don Ness tried heckling himself over the hot-spot issue, receiving pointed shots, as well as hundreds of likes, on Twitter and Facebook.
@Ness_Duluth shouldn't you be out filling potholes, or something?

— Don Ness (@Ness_Duluth) June 22, 2014
Rather than rely on property taxes, the city charges 24,200 residential customers $5 per month and 3,800 commercial customers $40 to $240 a month to fill potholes and repair cracks. The city, on Lake Superior, even nicks nonprofits to help fill a $16 million financial pothole left over from previous street upgrades.
Even city council members who support the fee, which is expected to raise about $3 million per year, acknowledged its broad unpopularity.
"Most of what I'm hearing from people is, 'Don't do it, we don't like it, find a different way,' and it's hard to come up with a different way," Barb Russ said before voting for the street fund at a June meeting.
Source material can be found at this site.