One popular notion is that members of Congress who oppose helping Syrian rebels confront the Islamic State terrorists fall into one of two groups: anti-war Democrats who don't want America in combat in the Middle East and hawkish Republicans who think more direct force is needed.
But comments today from Republicans who voted in the House against aid to the "moderate" rebels or were preparing to do so in the Senate suggest a more complex climate as the United States prepares again for war.
Rep. Raúl  Labrador, R-Idaho — a candidate for House majority leader only weeks ago — was on the losing side yesterday when he opposed the Obama  administration's request.
The House voted 273 to 156 to authorize the Pentagon to arm and train "moderate" rebels to combat the Islamic State, also known as ISIS or ISIL. This evening, the Senate voted 78 to 22 to aid the rebels, part of a continuing resolution to fund the government past the Sept. 30 close of the fiscal year.
As Senators Quiz Kerry, House OKs Obama Request to Arm, Train Syrian Rebels
The decision tortured Labrador, he said today at the monthly Conversations With Conservatives event on Capitol Hill, because the price of war goes deeper than a "yes" or "no" vote.
"The last two weeks for me have been agonizing, just on the small narrow question of if we should actually fund rebels," Labrador said  before a small audience of reporters and congressional staff.
'We Used to Tread Carefully'
"I just want to remind my Republican brethren and sisters that we used to tread carefully when it comes to the use of force," Labrador said.
He said George W. Bush won the presidency in 2000 in part by "advocating for a humble foreign policy." In his ninth month in the White House, terrorists struck America.
Top General Re-Opens Door on Ground Troops That Commander in Chief Closed
"Somehow," Labrador said, "we have forgotten, because of September 11, that we need to be a little bit more humble in our advocacy for the use of force."
Obama spoke briefly this evening from the State Dining Room of the White House.
"I want to thank leaders in Congress for the speed and seriousness with which they approached this issue," he said.
The bipartisan action in the House and Senate, the president said, shows that "when you harm our citizens, when you threaten the United States — it doesn't divide us, it unites us."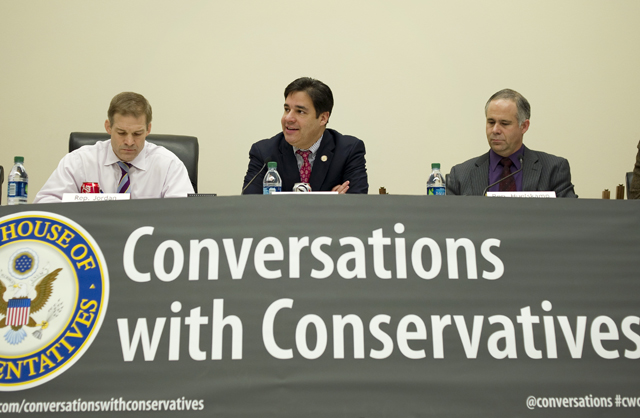 'Stay the Heck Out'
On the Senate floor today, in the hours before the vote, Sen. Rand Paul, R-Ky., said that if some Republican hawks had gotten their way and the U.S. had intervened earlier in the Syrian civil war, the Islamic State would be stronger than it is now.
The U.S. helped cause the current chaos in the Middle East, Paul argued, by taking down strongmen Saddam Hussein in Iraq and Muammar Gaddafi in Libya. The likely presidential candidate said:
Intervention is not always the answer and often leads to unintended consequences. There are bad people on both sides [in Syria]. We need to stay the heck out of their civil war.
'Eyes Wide Open' Urged in Helping Syrian Rebels to Fight ISIS
Paul voted no when the Senate approved arming and training the rebels.
Labrador and Paul both said they worried that aiding one group of fighters unintentionally could help Syrian President Bashar al-Assad maintain his ruthless rule.
They talked about the difficulty of distinguishing worthy rebels and more extreme ones.
"It's ludicrous to say that we know where all the arms, all the ammunition and all the money will end up," Paul said.
Obama administration officials are hopeful that insurgent groups it sees as moderate can, with U.S. assistance, provide many of the ground forces needed to fight ISIS in conjunction with American-led airstrikes.
"My fear," Labrador said, "is that the rebels in Syria will spend most of their time taking down Assad and leave a vacuum for the Islamic State to take over Syria, like Islamic radicals have taken over so many other countries."
Weighing in on War
For some lawmakers, this week's votes were their first chance to take a stance on war.
The New York Times reports that fewer than 140 of the 429 House members who voted Wednesday were in the House when Congress authorized the invasion of Iraq to topple Saddam in 2002.
A Primer for Obama's ISIS Speech: No Easy Answers for a Long Fight
"For many of us, this is our first chance to begin debate and discussion of whose authority is it in this country to declare war," said Rep. Tim Huelskamp, R-Kansas, who also spoke at Conversations With Conservatives.
That opportunity matters to Republicans, he and others said, but it's not as easy as destroying brutal jihadists and terrorists wherever they go.
"Our conference is divided," Labrador said. "Some think we should do more — that we should go to war in Syria. Some are more careful."
He added:
"I have lost sleep over it. I have thought about the men and women in the military that could potentially be put at harm's way. I have thought about the implications to the American people."