BY SAMANTHA EHLINGER
WASHINGTON — A series of statements this week from Obama administration officials have left a murky picture about whether four people caught last month crossing the United States border from Mexico had ties to terrorist groups.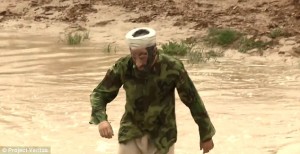 U.S. Rep. Jason Chaffetz, R-Utah, raised the issue last month when he said he had heard that individuals with terrorist ties to the Middle East had been caught crossing the border. Other Republican members of Congress have made similar claims since.
Responding to news reports about those remarks, Marsha Catron, the Department of Homeland Security's press secretary, said Wednesday in a prepared statement that the suggestion that individuals with ties to the Islamic State, also known as ISIL, had crossed the border was "categorically false."
"DHS continues to have no credible intelligence to suggest terrorist organizations are actively plotting to cross the southwest border," the statement said.
Then on Thursday, Secretary of Homeland Security Jeh Johnson told an audience in Washington that four people had in fact been apprehended, but that their "supposed link" to terrorism was "a claim by the individuals themselves" that they were members of the Kurdistan Workers' Party, which Johnson described as "an organization that is actually fighting against ISIL and defended Kurdish territory in Iraq."
But while the four individuals might not have claimed membership in the Islamic State, the admission that they had claimed membership in the Kurdistan Workers' Party raised more questions. The workers' party, more widely known by its Kurdish initials as the PKK, has been on the State Department's list of foreign terrorist organizations since 1997.
"Obviously, they're a terrorist organization," State Department spokeswoman Marie Harf said on Friday. Harf declined, however, to comment on Johnson's characterization of the group, saying she had not read his remarks.
Asked for a phone contact of someone who could discuss the specifics of the case, DHS spokeswoman Catron referred a reporter back to Johnson's prepared remarks from Thursday. A more detailed second email asking if DHS had determined if the four individuals were members of the PKK received no response.
Chaffetz raised the issue Sept. 17 during of the House Homeland Security Committee at which Johnson testified that "no specific case comes to mind" of a terrorist crossing into the United State from Mexico.
"My concern," Chaffetz said then, "is that I have a reason to believe that on Sept. 10th, there were actually four individuals trying to cross the Texas border who were apprehended at two different stations, that do have ties to known terrorist organizations in the Middle East."
Johnson clearly had Chaffetz in mind when he spoke Thursday on border security at the Center for Strategic and International Studies, a Washington think tank.
"In the absence of facts, the American public is susceptible to claims that we have an open, 'porous' border, through which unaccompanied minors and members of terrorist organizations such as ISIL may pass," Johnson said.
He added, "In September the public heard a claim that four individuals with suspected ties to terrorism in the Middle East had attempted to cross our southern border; far fewer know that, in fact, these four individuals were arrested, their supposed link to terrorism was thoroughly investigated and checked, and in the end amounted to a claim by the individuals themselves that they were members of the Kurdish (sic) Workers' Party – an organization that is actually fighting against ISIL and defended Kurdish territory in Iraq."
The role of the PKK in Iraq is a sensitive one. The PKK has fought a three-decade long war with the Turkish government. In its pursuit of a Kurdish rights and autonomy in southern Turkey, the PKK has been blamed for suicide bombings, kidnappings and the deaths of hundreds. Its founder has been imprisoned since 1999, and agreed in 2013 to a cease-fire.
But PKK-allied fighters played a key role in military operations to rescue members of the Yazidi religious minority who were trapped by an Islamic State offensive in early August — something U.S. and Kurdish officials there had tried to downplay because of the group's designation as a terrorist organization.
White House officials declined Friday to offer any clarification, referring inquiries to the Department of Homeland Security.
Read more here: http://www.mcclatchydc.com/2014/10/10/243072_did-members-of-terrorist-group.html?rh=1#storylink=cpy