An illegal immigrant charged with the fatal shootings of two California law officers had been deported to Mexico twice but returned twice to the U.S.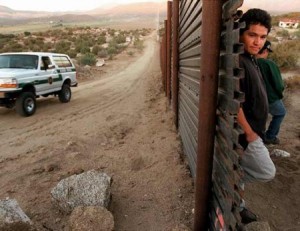 Authorities charged Luis Enrique Monroy-Bracamonte, 34, with murder, attempted murder and carjacking in a shooting rampage Friday that left two Northern California sheriff's deputies dead, another injured and a civilian seriously wounded.
The Los Angeles Times reported that Monroy-Bracamonte had been deported to his home country of Mexico in 1997 after his arrest and conviction in Arizona for possession of narcotics with intent to sell. He was arrested and sent back to Mexico a second time in 2001, the newspaper reported.
The accused shooter's wife, Janelle Marquez Monroy, 38, was charged with attempted murder and carjacking. Authorities say she accompanied her husband during the six-hour rampage.
How the accused shooter escaped detection in the U.S. was a question on law enforcement's mind, the Associated Press reported. He apparently lived under other names, including Marcelo Marquez.
Both suspects, who live in Utah, were being held without bail in Sacramento County jail.
U.S. Immigration and Customs Enforcement has asked the Sacramento County Sheriff's Department to transfer Monroy-Bracamonte to federal custody if he is released so that it can begin proceedings to remove him from the country again.
Authorities gave this account of the incident:
As Sacramento County Sheriff's Deputy Danny Oliver checked on a suspicious car in the parking lot of a Motel 6,  Monroy-Bracamonte fired from the vehicle. A bullet struck Oliver, 47, in the forehead, killing the father of two.
Monroy-Bracamonte and Marquez fled and tried to carjack a motorist about a mile away. When the driver, identified as  Anthony Holmes, 38, didn't give up his vehicle, Monroy-Bracamonte shot the motorist in the head.
The couple took another stolen car to Auburn, where Placer County Sheriff's Detective Michael David Davis Jr. and Deputy Jeff Davis confronted them.
Monroy-Bracamonte shot both men, wounding Jeff Davis in the arm and mortally wounding Michael Davis Jr., 42. The shooter was caught in a residence after running from the scene.
Source material can be found at this site.